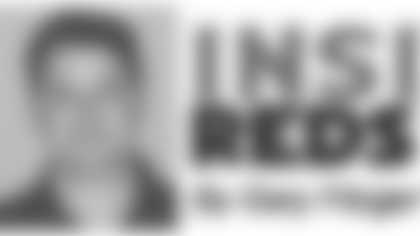 Surprisingly, the Redskins enter 2008 training camp with very little competition for starting jobs.
That falls in line with the continuing theme of roster stability during the Redskins' offseason.
There remains some uncertainty over who starts opposite LaRon Landry at safety: Reed Doughty or Stuart Schweigert. But both should make the roster and see playing time on defense.
Competitions at special teams and backup roles could draw the most scrutiny as training camp unfolds.
Here are five training camp competitions to watch:
-- PUNTER: FROST vs. BROOKS
Derrick Frost has served as the Redskins' punter since 2005. The Redskins drafted rookie Durant Brooks in the sixth round of last April's NFL Draft, laying the groundwork for an intriguing competition.
At 27, Frost is still young enough to be the Redskins' long-term answer at punter. He has struggled with consistency at times in his four-year career.
Durant Brooks (Don Wright Photo)
Last season, he averaged 41.0 yards per punt, which ranked 18th in the league. His 36.4-yard net punting average was 21st in the league.

Special teams coordinator Danny Smith wants to see improvement in the punting game.

Brooks played college football at Georgia Tech the last two years. He shattered school and conference records with an average of 45.3 yards on 144 punts. He had 68 attempts that were downed inside the 20-yard line.

Last year, Brooks was the recipient of the Ray Guy Award, given annually to college football's best punter.

Frost has also served as the holder on field goal attempts. Brooks also performed those duties at Georgia Tech, which adds to the competition.
-- SAFETY: DOUGHTY vs. SCHWEIGERT
Defensive coordinator Greg Blache has versatility in his secondary with LaRon Landry, Reed Doughty and Stuart Schweigert.
Landry can play either free or strong safety. Doughty started the last six games last season at strong safety. Schweigert, signed by the Redskins on June 2, is a classic free safety.
Blache could move Landry around to either safety position during games, with Doughty and Schweigert both getting playing time opposite him.
Still, it's up to Doughty and Schweigert to step up during training camp and show Blache they deserve to be on the field.
Doughty saw his first significant NFL action last November and December. After struggling early replacing the late Sean Taylor in the lineup, Doughty found a comfort zone. He finished with 49 tackles, a half-sack and two passes defended.
A former third-round draft choice by the Raiders, Schweigert has played in 63 games, with 42 starts, in his NFL career. He has posted 315 tackles, four interceptions and 18 passes defended.
Another camp competition at safety could be among rookie safeties Kareem Moore and Chris Horton, both Redskins draft picks last April.
They could compete with veteran Vernon Fox to become the fourth safety. Or they could battle for a practice squad spot.
-- THIRD CORNERBACK
The Redskins' cornerback position becomes clearer when injured starter Carlos Rogers is fully healthy.
Rogers, rehabbing a knee ligament injury, hopes to be available for the regular season opener. That may prove to be somewhat optimistic, though. Rogers might be more ready by midseason. Head coach Jim Zorn has mentioned that he might be a candidate for the Physically Unable to Perform list, which sidelines a player eight weeks.
Veterans Shawn Springs and Fred Smoot are expected to draw the starting assignments at cornerback early in the season.
With Rogers uncertain, it's up to three young cornerbacks to battle for playing time in nickel and dime packages.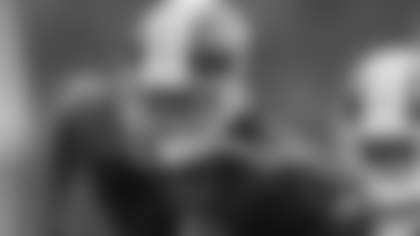 J.T. Tryon (Don Wright Photo)
Third-year player Leigh Torrence has impressive speed--he is one of the fastest players on the team--which should benefit him. He logged 33 tackles and one sack as a reserve cornerback last season.

J.T. Tryon, the Redskins' fourth-round draft pick last April, is a confident rookie out of Arizona State. He had 103 tackles, four interceptions and one forced fumble in two seasons with the Sun Devils.

Byron Westbrook spent the 2007 season on the Redskins' practice squad. He has been cited as one of the most improved defenders--and he hopes to make a name for himself apart from his famous brother, Pro Bowl running back Brian Westbrook of the Philadelphia Eagles.
-- FOURTH DEFENSIVE END
Phillip Daniels and Andre Carter enter training camp as the starters, and Chris Wilson is a promising backup who served as a speed rusher last season.
The May addition of Erasmus James could signal a competition for the remaining backup defensive end position.
The Redskins acquired James, a 2005 first-round draft pick by the Minnesota Vikings, last May. In 23 career games, he has 53 tackles, five sacks and two forced fumbles. He has been limited by knee ligament injuries each of the last two seasons.
James, 6-4 and 266 pounds, is reunited with his defensive line coach John Palermo, who tutored him at the University of Wisconsin. James earned All-American honors and was a Big Ten Defensive Player of the Year as a senior at Wisconsin.
Demetric Evans has been a key backup on the Redskins' defensive line since 2004. He is a steady player who can play both end and tackle. He has played in 80 games, with 12 starts, and recorded 160 career tackles and 9.5 sacks.
Alex Buzbee is a promising young lineman who developed his skills on the Redskins' practice squad last season. The team promoted him to the active roster after the Kansas City Chiefs tried to sign him away in mid-December.
Rob Jackson, the Redskins' seventh-round draft pick last April, appears to be a roster long-shot at this point, but he could make a run with an impressive camp.
-- FIFTH WIDE RECEIVER
Santana Moss and Antwaan Randle El are expected to resume their starting roles in 2008. Rookie draft picks Devin Thomas and Malcolm Kelly are assured of a roster spot as well.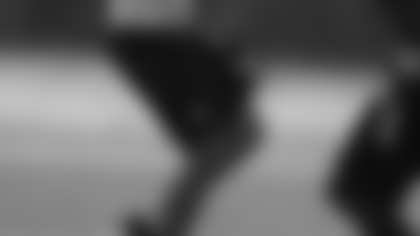 James Thrash (Don Wright Photo)
The fifth wide receiver spot appears to be wide open.

Anthony Mix turned in a strong offseason and could have the inside track for the job. At 6-5 and 235 pounds, he's wide-bodied and rangy and has a good rapport with Jason Campbell. (They played at Auburn together.)

James Thrash, a 12-year vet, is a consummate pro and team leader. He has 281 receptions and 24 touchdowns in his career. His experience in the West Coast offense--he played in a similar scheme in Philadelphia from 2001-03--should benefit him. He also can return kicks and serve on special teams coverage units.

Billy McMullen, a five-year NFL veteran out of Virginia, also played in a West Coast offense in Philadelphia and Minnesota. He has grabbed 45 receptions for 601 yards and three touchdowns in his career. Like Mix, McMullen is tall and rangy at 6-4 and 215 pounds.

A dark horse candidate? Keep an eye on first-year player Burl Toler, who also impressed during off-season work. The 6-2, 190-pound wide receiver spent most of last season on the Redskins' practice squad.

Will the Redskins keep six wide receivers on the roster? Possibly, but it appears likely that the team will have three tight ends on the roster, making it difficult to find space for a sixth wide receiver.