No one will dispute that Charlie "Choo Choo" Justice earned his greatest fame on the gridiron at the University of North Carolina, where he became regarded as one of the premiere halfbacks in college football history and was a two-time Heisman Trophy runner-up.
His career with the Washington Redskins was also memorable, although brief. The shifty, elusive runner played four seasons in Washington, in 1950 and from 1952-54.
Electrifying at times, he carried the ball 266 times for 1,284 yards, a 4.8 average, with three touchdowns. He also caught 63 passes for 962 yards with seven scores and punted 94 times for a 40.4 average.
"The little guy has everything," Earl 'Curly' Lambeau, the Redskins' head coach in 1952-53, once said. "He has tremendous take-off speed and all the guts in the world. All he needs is a sliver of daylight, and he's gone.
"If he had a little more speed in the open, he'd be scoring touchdowns from any place on the field."
There was something special about Justice from the time he established himself as a triple-threat for his high school team in Asheville, N.C., in the early 1940s.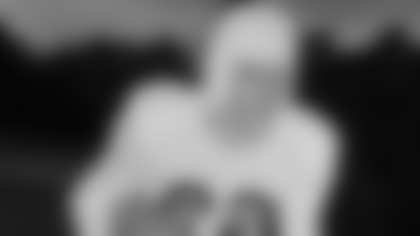 Charlie Justice at North Carolina
(AP Photo)


He later opted not to play ball in college, instead enlisting in the U.S. Navy during World War II.
Based in the United States, he starred for a great Navy football team out of Bainbridge, Md., and was noticed for the first time by NFL scouts. He turned down an offer to play for the Philadelphia Eagles.
Justice got his nickname in the Navy when it was said he ran like a choo-choo train.
In 1946, Justice began playing at North Carolina, where he was part of some of the greatest teams in school history. The Tar Heels went 32-7-2 and played in three bowl games in his four-year stay. The 5-10, 170-pounder contributed with his versatility.
A back in the old single-wing formation, he rushed for 2,634 yards on 526 carries (5.0 average) with 28 touchdowns; and completed 159 of 321 passes for 2,249 yards with 25 touchdowns and 32 interceptions.
He also returned 31 kicks for 826 yards (26.6 average), 68 punts for 966 yards (14.2 average), and punted 231 times with a 42.6 average.
Along the way, Justice became a folk hero in North Carolina, as well as a national icon. He was pictured on the cover of Collier's, Life and Pic, among other national magazines.
Bandleader Johnny Long recorded a song about him and Benny Goodman played it on the air. Home crowds chanted, "All the way Choo Choo, all the way."
Justice went on to earn most valuable player honors in the 1950 College All-Star game, when his squad upset the NFL champion Eagles, 17-7. He rushed for 133 yards on only 11 carries, scored on a 40-yard pass from future Redskins quarterback Eddie LeBaron, and set up his team's other touchdown and a field goal with 45- and 33-yard runs.
LeBaron played with Justice for two seasons in Washington.
"Charlie was a great friend of mine, a good player, a good guy," LeBaron said. "He was a great runner and cut back as well as anyone I've ever seen. He was also a great receiver."
The Redskins drafted Justice in the 16th round (200th pick) in 1950, but he decided to forego pro football and work with the North Carolina Medical Association.
Redskins owner George Preston Marshall, fascinated with star players from southern schools because of the Redskins strong ties to the southern market at the time, tried to lure Justice to Washington.
He joined the Redskins six games into the 1950 season as one of the most publicized college players of that era.
Justice led the Redskins in rushing for the rest of the season but sat out the 1951 campaign, serving as an assistant coach at North Carolina. He returned with a bang in 1952, turning in his most memorable performance in a Redskins uniform, ironically, in an exhibition game.
Justice captivated a crowd of nearly 90,000 in the Los Angeles Coliseum by rushing for 199 yards on 11 carries (18.1 average), with runs of 46, 65 and 54 yards. But he suffered a broken arm in the third quarter and was of little use to the team for the rest of the season.
He bounced back to craft his best season in 1953, rushing 115 times for 616 yards, the fourth-highest mark in the NFL. He also caught 22 passes for 434 yards. One sportswriter called No. 22 a "twisting, whirling dervish" after he ran for 120 yards in a 28-17 win over the Chicago Cardinals.
Justice played one more season with the Redskins, rushing 56 times for 254 yards and catching 11 passes for 242 yards.
George Preston Marshall honored him with "Charlie Justice Day" before thousands of his fans from North Carolina at halftime of Philadelphia's 49-21 win over the Redskins at Griffith Stadium, the Redskins old home stadium, on Oct. 17, 1954.
After playing on mediocre-to-poor Redskins squads during his four seasons in Washington, Justice retired after the 1954 campaign at age 30.
"I like pro ball very much and just wish I could have gotten into it at the age of 22 instead of 27," Justice once said. "It differs a great deal from college football. In school, you play against an average of three or four good players every Saturday, while in this pro game you run up against hand-picked collegiate stars, the best in the business, about 33 of them on every team."
Justice passed away on Oct. 17, 2003. A year earlier, he had been named one of the 70 Greatest Redskins as part of the team's 70th anniversary.
Michael Richman is the author of The Redskins Encyclopedia, a 432-page book that spans the 75-year history of the storied franchise. He co-hosts a show on ESPN 840 in Charlottesville, Va., called the "DC Sports Blitz." His web site is www.redskinshistorian.com.