With three Super Bowl rings to his name--one with the Redskins and two with the Broncos--Mark Schlereth had an NFL experience most football players can only dream of.
Now, Schlereth is enjoying a post-retirement career that also is the envy of many. He's an NFL in-studio analyst for ESPN and is one of the polished stars at the cable broadcasting network.
Schlereth joined ESPN in 2002 as an analyst for the "NFL 2Night," now "NFL Live," not long after retiring from football. A tough, hard-nosed competitor who played guard, he saw action his first six seasons in Washington and his last six in Denver, appearing in 156 games.
He also went under the knife for surgery nearly 30 times in his career, mostly to repair his banged-up knees, and suffered briefly from Guillain-Barre syndrome, a rare neurological disease that can short-circuit the route between the impulses sent from the brain and the body's muscles.
But the 6-3, 283-pounder refused to let ailments force him to retire prematurely. In an article on ESPN.com, he wrote about his drive to continue playing:
"There were countless times when I'd play a game with torn cartilage in my knees. I'd be asked to 'Hang on for a few more weeks' before having surgery.
I'll tell you what: In those moments, the negative feelings pile up--the exhaustion from ignoring the signals your body is sending you, the frustration from not being able to perform simple tasks--and you've got to dig deep into the recesses of your soul to remember why you continue to do it.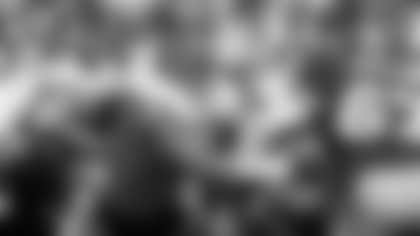 "But I'd be back in the training room getting taped up for the next game. Why? Mostly because I loved the game. But also out of a sense of obligation to my teammates who relied on me. I could never let them down.
"Regardless of how beat up I'd get, I'd go out and play hard for them, because I know they'd do the same for me."
Schlereth played his college ball at Division I-AA Idaho and blocked for quarterback John Friesz, who played for the Redskins in 1994.
In joining the Redskins as a 10th-round draft pick in 1989, Schlereth became the first native-born Alaskan to play in the NFL. His teammates nicknamed him "Stinky" after stinkheads, an Eskimo delicacy made from rotting fish heads.
A latter-day Hog, Schlereth started six games as a rookie and seven in 1990 before enjoying a watershed season in 1991.
While starting all 16 regular-season games, he won three Redskins Offensive Player of the Week honors and was a major reason they allowed a league-low nine sacks and had one of the best rushing attacks in the NFL.
He also started all three postseason games, including a 37-24 win over Buffalo in Super Bowl XXVI, and was named to the Pro Bowl.
Schlereth crafted a 43-consecutive-game starting streak that ended in 1993 due to a knee injury.
Soon after, he contracted Guillain-Barre syndrome and was sidelined for about the last half of the season.
The Redskins' offensive line coach at the time, Jim Hanifan, praised his hard-nosed guard.
"They don't make them any tougher than Mark Schlereth," Hanifan said in a Redskins media guide. "He is a muy malo hombre (a very bad man), but only on the football field. No one admires Mark Schlereth more than I do."
Schlereth returned to play in every game in 1994 but signed as a free agent with Denver after the season. He started on Broncos teams that upset Green Bay, 31-24, in Super Bowl XXXII and that beat Atlanta, 34-19, in Super Bowl XXXIII, and he made the Pro Bowl once more.
Upon retirement, Schlereth had distinguished himself as one of only 15 players to win Super Bowls in each conference and one of 35 to win the NFL championship with two different teams, according to ESPN.
Michael Richman is the author of The Redskins Encyclopedia, a 432-page book that spans the 75-year history of the storied franchise. His web site is www.redskinshistorian.com.