It was a classic Bruce Smith move.
All afternoon at Giants Stadium, on Dec. 7, 2003, Smith had raced to the outside of second-year left tackle Ian Allen, a late replacement for starter Luke Petitgout.
Several times, Smith--in his fourth season with the Redskins--was close to sacking Kerry Collins and later, Jesse Pamer.
Close wasn't good enough.
With the Giants driving downfield in the fourth quarter, trailing 20-7, the Redskins' defense was primed for a pass rush.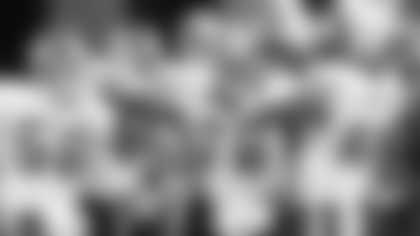 Teammates celebrate with Bruce Smith. (Getty Images)


Sensing a pass on a 2nd-and-3 play, Smith felt he had set up Allen long enough with his pass rush.
Smith faked outside, and then sped inside of Allen. Palmer was there for the taking.
It was career sack No. 199 for Smith.
With that sack, Smith had broken Reggie White's all-time career sacks record.
Finally, Smith stood alone, atop the list, adding one more credential to his Hall of Fame career.
Smith, who played for the Buffalo Bills from 1985-99 and the Redskins from 2000-03, was inducted into the Pro Football Hall of Fame on Aug. 8.
He logged 29 sacks in his four seasons in Washington, but his most memorable was the record-breaker at Giants Stadium.
"I was rushing pretty much all day," Smith said. "It looked like [the Giants] were using a slide protection. The left tackle overstepped to the outside and that was a cardinal sin on his part. I slapped his hands and beat him inside. The quarterback was sitting right there.
"I just tried to lunge at the quarterback and hopefully either grab hold of him or split the pressure on him. We had been getting pressure all day.
"I actually thought the quarterback had gotten rid of the ball before he went down. But as I got up, I saw he still had the ball in his hands and I had gotten the sack.
Smith was quickly swarmed by his teammates, including LaVar Arrington and Antonio Pierce.
In a bitter cold and windy day at the Meadowlands, the Redskins would go on to defeat the Giants 20-7 on Sunday. Smith's sack helped stymie a fourth-quarter rally by the Giants.
Smith said he felt before that game that something special was going to happen.
"It started with the attitude of the team," he said. "From the offense to the defense, it just seemed like everything was clicking. I think the players knew this would be a special situation if we were able to get [the Giants] into a passing situation.
"They had a couple offensive [players] banged up, and we felt like we were able to take advantage of that and exploit it."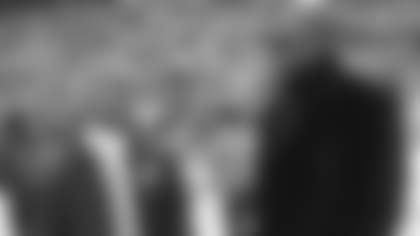 Bruce Smith with Darrell Green at FedExField in 2006. (Don Wright Photo)


After the game, Smith was doused with water in the locker room. Later, he wore a velvet robe--a gift from his tailor--with the words "All Time" embroidered on it.
As teammates congratulated him, Smith made a point to congratulate them.
"I've said this from day one: good things happen to individuals when a team wins," Smith said. "And that was an example of it."
In a post-game press conference, Smith credited his mentors and teammates in Buffalo. He cited Jim Kelly, Thurman Thomas, Darryl Talley and Cornelius Bennett, among others.
Then Smith thanked Arrington, Jessie Armstead, Jeremiah Trotter, Chad Morton and others who kept urging him on as the 2003 season progressed.
Earlier that season, Smith's pre-game pep talks were instrumental in helping the Redskins get off to a 3-1 start.
Now it was his teammates' turn.
"My teammates were more pumped up than I was," Smith said. "It was a special day."
Smith ended his career after the 2003 season with an even 200 sacks.