It was 1975, and the Redskins were in desperate need of a productive running back.
The season before, Larry Brown had led an anemic running game with 430 yards, and the knees of the once-great runner were faltering.
To top it off, the Redskins had no draft picks that year until the fifth round. Still, a running back was available, one who had rushed for more than 3,000 yards in two seasons at Nevada-Las Vegas: Mike Thomas.
"Prior to the draft, Coach [George] Allen said, 'Wouldn't it be great if we could get another Larry Brown like we did in the eighth round in '69," Mike Allman, then the Redskins' head of college scouting, once said in The Washington Star.
"When the fifth round started, Roosevelt Leaks and Thomas were still in there. I said, 'It'll be tough to pass Leaks, even with questions about his knee. But I've got to check on Thomas. He should be picked by now.'"
The Redskins used their fifth-round pick on Thomas, who turned into the dynamic runner Allen was seeking. The 5-11, 190-pound back rushed for 3,360 yards in four seasons as a Redskin, the second-most in team history at the time behind Brown.
Thomas also caught 192 passes for 2,011 yards and scored 30 touchdowns.
"When Larry Brown was near the end of his career, Mike came in and played a few good years for us," former Redskins quarterback Billy Kilmer, who teamed with Thomas for four seasons, said. "Mike was a good, tough little back. He wasn't big, but he was very quick. He had good instincts and could catch the ball out of the backfield."
In college, Thomas originally enrolled at Oklahoma and ran 90 yards for a touchdown the first time he touched the ball in a game.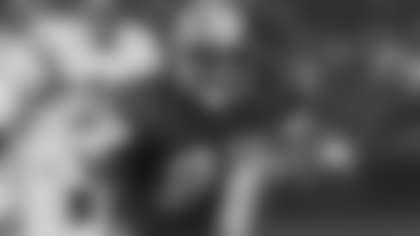 But an injury forced him out of the lineup, and he transferred to Nevada Las-Vegas. He gained 1,741 yards one year and was named an All-American.
Thomas burst onto the NFL scene early in the 1975 seasons, recording his first 100-yard game in a Redskins Monday Night win over St. Louis. He started the last eight games, becoming one of the only rookies to ever start for Allen, who much preferred veterans.
Allen rushed for 919 yards in his rookie year and he was named NFL Rookie of the Year, the second Redskin to ever receive that distinction.
"As a rookie, Mike Thomas is a rarity," columnist Morrie Siegel wrote in The Washington Star during the 1975 season. "Allen's track record for hiring rookies is terrible. He almost regards them as persona non grata."
Despite his stellar rookie season, Thomas felt he lacked the respect he deserved.
"I had a great year, but there are a lot of people out there that think it was a fluke or something," he said. "I gained almost 1,000 yards. Okay, now I've just got to do it again this year, or they'll never believe I'm for real. I guess I need to do it again just for myself, too."
Thomas defied the doubters.
He rushed for 1,011 yards in 1976, including a workmanlike 31-carry, 195-yard day as the Redksins earned a playoff berth.
A hamstring injury slowed him in 1977, when his rushing total slipped to 806 yards. He gained 533 yards in 1978, missing three games due to a sprained ankle as the Redskins slumped en route to a .500 season.
The Redskins subsequently traded Thomas to San Diego for a fifth-round draft choice. He rushed for 837 yards in two seasons there and retired after suffering an off-season knee injury.