There's probably nothing easier to do at a Redskins game than cheer for London Fletcher.
The 12-year veteran middle linebacker leads the Redskins in tackles. He brings unbridled enthusiasm to his job and pumps up the crowd with his frenetic style.
On Sunday, against the Kansas City Chiefs, there will be one group at FedExField cheering just a little bit louder for No. 59. That would be the 25 kids from McFarland Middle School in Washington, D.C., who are attending courtesy of the London's Bridge Foundation.
These youngsters are members of London's Brigade. This group is in the midst of its four-month program that teaches leadership and community service and provides them with a variety of educational and cultural outings.
They enjoyed a trip to Capitol Hill with Fletcher, a tour of the Capitol and a meeting with District congressional delegate Eleanor Holmes Norton and dinner at B. Smith's at Union Station.
They'll go to the Newseum, party at the ESPN Zone and work at the stadium again in November as part of Harvest Feast to distribute food to those in need.
"When I'm done playing, I really see myself devoting my time and energy to my foundation work," Fletcher says. "I have a true passion. My soul and my spirit are truly uplifted when I work with the kids. That's when I get a sense of my mission in life and what God has for me to do -- to change lives for the youths in this world."
Fletcher, 34, is in his third season with the Redskins after playing five years for the Buffalo Bills and four with the St. Louis Rams. He was part of the Rams' championship team that won Super Bowl XXXIV and his last game with the Rams was the club's less-successful appearance in Super Bowl XXXVI, a 20-17 upset loss to the New England Patriots.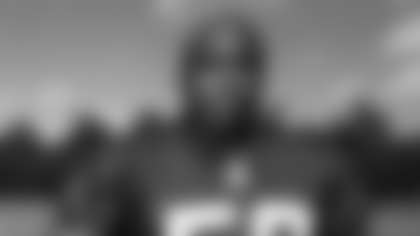 As an undrafted rookie, Fletcher earned a roster spot with the Rams and became the starting middle linebacker in his second season, which culminated in the title. He has never missed a game and has started every one over the last nine years.
Throw out his rookie season and he has led his team in tackles every year.
"The man is a tackling machine," Redskins fullback Mike Sellers said. "If he doesn't go the Pro Bowl this season, no matter what our record is, then something is wrong."
Fletcher would rather not address the perennial snub. Asked if he has ever been to Hawaii, he says that he has, a couple of times.
He then quickly notes that this season's Pro Bowl will be in Miami the weekend before the Super Bowl, rather than Honolulu. That would be just his luck.
If he goes without the accolades outside of the organization, there is no question internally what he means to it. He has been the Defensive Most Valuable Player the last two years, he's a team captain and a classic overachiever.
Undersized at 5-10, 245 pounds, he came from a Division III school, John Carroll University, where he transferred to play football after three semesters at St. Francis (Pa.) as a basketball player.
He earned All-Madden recognition in 1999, set Buffalo's tackling record (209 combined) in 2002 and was twice a Pro Bowl alternate while with the Bills.
Fletcher always has a smile on his face and time to talk but that demeanor vanishes shortly before kickoff. It is another of his trademarks.
"I like to think that I transform, like Optimus Prime," he says, comparing himself with the Transformers character who leads the good guys against the evil doers headed by Megatron. Optimus Prime is known for leading by example.
"Before the game, coming into the locker room, I'm pretty calm, pretty even keel. But when I put that helmet on, I transform," Fletcher says. "There is something in my body and my mind that says, 'OK, it's time. Time to go to work.'
"Once I put my helmet on, it's all business. I really do feel that adrenaline surge. I feel like I'm ready to hit something, and it's perfectly legal."
There's a notion around the NFL that players and coaches have 24 hours after a game to savor it or mourn it and then they must put it behind them.
Fletcher, however, needs an extension. He cannot build to that sort of intensity and have it dissipate at the final whistle.
"I'm constantly thinking about the game, win or lose," he says. "Plays that I could have done different. Throughout the night. It's tough to sleep nights after the game, win or lose. Usually until about Tuesday night, or Tuesday afternoon. I'm always thinking about football. It's always on my mind."
There's a small taste of down time each day with his wife and two children but even that is pinched by the demands of the football season and the standards Fletcher imposes on himself.
"When I get home after work we have two or three hours where I'm just with them, putting the kids to bed. Then I'm probably back to thinking about the game plan, watching film. My wife understands that during the season she's not going to get me to do much," he says.
She knows. He's a little busy -- making tackles, supporting his foundation, improving the world a bit at a time.