Linebacker London Fletcher has been selected as the Redskins' nominee for the 2009 Walter Payton Man of the Year award.
The Man of the Year honor is the only league award that recognizes player off-the-field community service as well as playing excellence.
Fletcher and 31 other team nominees demonstrated an outstanding balance between civic and professional responsibilities in their lives this season.
Fletcher was the Redskins' nominee in 2008 as well.
"The Walter Payton Award Man of the Year award is really an honor because you think about the great Walter Payton and all that he meant to football," Fletcher said. "Not only to football, but also all the things that he did in the community.
"You know, we have a lot of guys on our football team who do a lot of great things in the community, they are also very deserving of this award other than myself. So I am extremely appreciative."
As the Redskins' nominee, Fletcher will receive a $1,000 donation for his London's Bridge Foundation.
The four finalists for the Walter Payton Man of the Year award will receive an additional $5,000 and be invited to the Super Bowl in Miami, with the winner announced on field right before kickoff of the game. The winner will receive a $25,000 donation to the charity of his choice.
An undrafted free agent from John Carroll, a Division 3 college, Fletcher has played every game since entering the NFL -- a remarkable feat given that he plays a physically challenging position.
Fletcher has played in 190 career games, with 148 consecutive starts, and has posted 10 consecutive seasons with 100 tackles, including this year.
He's an 8-time Pro Bowl alternate, 2-time Redskins defensive captain and Player of the Year, and NFLPA All-Fundamentals, All-Madden, Rams Rookie of the Year, and 4-time Walter Payton Man of the Year nominee.
Fletcher started London's Bridge to "build a bridge to our future" by addressing inequities facing children through education, leadership, teamwork, and recreation by providing college test preparation, campus tours, scholarships, and a bike giveaway.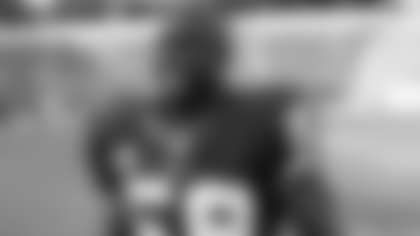 As a Sports Ambassador for Children's Inn, a sanctuary for sick children treated at the National Institutes of Health, Fletcher spends hours building relationships with the residents. He visits wounded warriors and greets terminally ill children following home games.
Through "London's Brigade," a curriculum mentoring program, students visited Capitol Hill, talked with congressmen, and explored museums. Students distributed food to underserved residents alongside London and participated in a forum about peer pressure, health, and education. Students maintained a journal and stayed connected through social media tools, which London made available in a safe, no-cost manner.
While the Brigade marches to Cleveland this offseason, students will also get active in the Play 60 Challenge.
"[London] has purpose in the things he says and does," Redskins head coach Jim Zorn said. "He's a man of faith, living a consistent life off the field. He's a person I want my son to look up to. He's a great ambassador for the Redskins and the NFL."
The prestigious award was renamed in 1999 for the legendary Chicago Bears Pro Football Hall of Fame running back Walter Payton. The Walter Payton Man of the Year Award has been given annually since 1970.
Redskins nominees of the Walter Payton NFL Man of the Year this decade include Rocky McIntosh, 2007; Renaldo Wynn, 2006; Shawn Springs, 2005; Chris Cooley, 2004; Darnerien McCants, 2003; Eddie Mason, 2002 and Chris Samuels, 2001.
Darrell Green, nominated in 1996, and Joe Theismann, nominated in 1982, both won the national award.