Redskins linebacker London Fletcher is in Miami this week as a finalist for the 2009 Walter Payton Man of the Year award.
Fletcher joined fellow nominees Brian Waters of the Kansas City Chiefs and Mike Furrey of the Cleveland Browns and the Walter Payton family in a press conference in Miami on Friday.
"I would like to thank the Walter Payton family, the NFL and all of my colleagues who have nominated me for Walter Payton NFL Man of the Year," Fletcher said. "I can remember being in elementary and junior high school and watching Walter Payton as he led the Chicago Bears all over the field. I was a huge Chicago Bears fan. To be a finalist with Mike [Furrey] and Brian [Waters] is extremely humbling and I'm honored to be here.
"Just to be nominated for my team was huge to me because I stand here as an NFL player because of the things people did before me to help me get to this point. That's why when I made it to the NFL, it was extremely important for me to give back to the community I played in."
The Walter Payton Man of the Year award is the only league award that recognizes player off-the-field community service as well as playing excellence.
As the Redskins' nominee, Fletcher received a $1,000 donation for his London's Bridge Foundation.
As one of the three finalists, he received an additional $5,000.
The winner of the Walter Payton Man of the Year award will be announced prior to kickoff of Super Bowl XLIV on Sunday night. The winner will receive a $25,000 donation to the charity of his choice.
"London steps up to the task and is passionate about his commitment to community service," said Brittney Payton, daughter of Walter Payton. "He founded the London's Bridge to address inequities facing children through education, leadership and teamwork. London also serves as a sports ambassador for the Children's Inn, a sanctuary for children being treated at the National Institutes of Health.
"London humbly states, 'I just like to give back, especially to causes that are near and dear to me,' and give back he does, all the way to those in the back of the line. They're the ones he nurtures and attentively brings proudly to the front to be the best they can be."
In a question-and-answer session with the media, Fletcher said he draws motivation from his past to help others.
"Like a lot of players in the NFL, I grew up in the inner-city, a single-parent home, but my grandparents were there. There were a lot of adversities that I faced. My father wasn't in the home. My mother battled some drug addictions. My older sister was murdered.
"There were a lot of different situations that could have led me to go in a different route, but instead of looking at those situations as a negative, I used them as a positive -- to motivate me to do better and use their examples as something I wanted to become.
"First and foremost was graduating college and I was fortunate enough to be able to play in the NFL."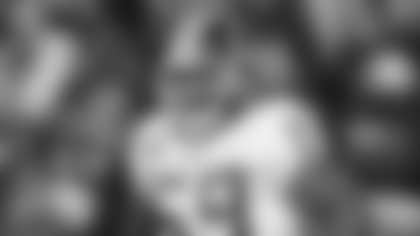 Last season, Fletcher demonstrated an outstanding balance between civic and professional responsibilities.
An undrafted free agent from John Carroll, a Division 3 college, Fletcher has played every game since entering the NFL -- a remarkable feat given that he plays a physically challenging position.
Fletcher has played in 190 career games, with 148 consecutive starts, and has posted 10 consecutive seasons with 100 tackles, including this year.
He is an 8-time Pro Bowl alternate, 2-time Redskins defensive captain and Player of the Year, and NFLPA All-Fundamentals, All-Madden, Rams Rookie of the Year, and 4-time Walter Payton Man of the Year nominee.
Fletcher started London's Bridge to provide college test preparation, campus tours and scholarships.
He has spent hours building relationships with sick children at the National Institutes of Health and has visited with wounded warriors and terminally ill children following home games.
Through "London's Brigade," a curriculum mentoring program, students visited Capitol Hill, talked with congressmen, and explored museums.
Students distributed food to underserved residents alongside London and participated in a forum about peer pressure, health, and education. Students maintained a journal and stayed connected through social media tools, which London made available in a safe, no-cost manner.
The Walter Payton Man of the Year Award has been given annually since 1970. The prestigious award was renamed in 1999 for the legendary Chicago Bears Pro Football Hall of Fame running back Walter Payton.
Redskins nominees of the Walter Payton NFL Man of the Year in the last 10 years include Fletcher, 2008; Rocky McIntosh, 2007; Renaldo Wynn, 2006; Shawn Springs, 2005; Chris Cooley, 2004; Darnerien McCants, 2003; Eddie Mason, 2002 and Chris Samuels, 2001.
Darrell Green, nominated in 1996, and Joe Theismann, nominated in 1982, won the national award.