In the visiting locker room at Cowboys Stadium on Dec. 19, London Fletcher had words for his teammates.
Down 20-7 to the Cowboys, the Redskins weren't playing with enough passion, Fletcher said.
"I just didn't like the way we were playing," Fletcher said. "We were only down 13 points but the energy level wasn't what I would like it to be. I just wanted to share with my teammates from the heart."
The Redskins responded, launching a furious comeback to tie the Cowboys at 30-30 before ultimately losing 33-30 on a late field goal.
Fletcher's halftime speech was hardly a turning point in the Redskins' season. This was Week 15, after all, and the dye was cast on the team's 6-10 campaign long ago.
But from that point, the Redskins were in every game, defeating the Jacksonville Jaguars 20-17 the following week and falling to the New York Giants 17-14 in the season finale.
For Fletcher, a team captain, finishing strong was important because it set the tone for the offseason.
"Record-wise, we only won two more games [than the 2009 season], but to just feel the optimism about our football team is different than the past," he said. "I enjoyed coming to work. [In 2009], it wasn't enjoyable coming to work and it was like that early in the season.
"Coach [Mike] Shanahan has come in and really created an atmosphere and an environment that is conducive to winning and conducive to having each others' backs. It made it a joy to come to work."
Fletcher capped off his 13th NFL season by leading the Redskins' defense with 188 tackles. He also posted 2.5 sacks, one interception, three forced fumbles and three fumble recoveries.
For his efforts, he was named a second alternate to the Pro Bowl at inside linebacker. (He earned his first Pro Bowl nod last year.)
Winning has always been paramount to Fletcher, but now more than ever.
Early in his career, he helped the St. Louis Rams to a pair of Super Bowl appearances in 1999 and 2001, winning one. But after five seasons in Buffalo and four seasons in Washington, he has yet to get back.
"I would like for this organization to be in a situation where we are perennial playoff contenders, not where you make the playoffs one year and you're down the next," he said. "I want this organization to return back to the glory days where it is always going to be a situation where we are competing for championships.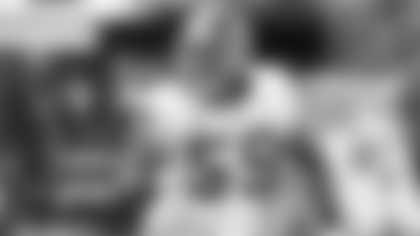 "Obviously we know that there are going to be some changes. When you are 6-10 there are going to be some changes. The coaching staff and the personnel people are working hard to see where we can get better."
Fletcher said he hoped the team would acquire "the right guys" that would adhere to the new culture at Redskins Park and play within the offensive and defensive schemes.
"You have to bring in guys who are going to fit what we are trying to do as a team, buy into what we want to do and help us get to where we want to be," he said.
Fletcher feels he is good physical shape for a 14th NFL season.
His off-season regimen includes focuses on building strength and core training so that he can avoid postural imbalances that lead to injuries.
He enters the 2011 campaign having played in 208 consecutive games, tied for tops with Indianapolis's Peyton Manning and Tampa Bay's Ronde Barber among active players.
"I think I held up great this year," Fletcher said. "I'm still one of the top linebackers in the league. I have a strong desire to compete. I have slowed down physically from maybe 10 years ago, I can't necessarily practice as hard as I used to practice, but my desire to compete is still what remains.
"The coaches out there do a great job of monitoring me and taking care of me and making sure I'm ready to go. God has been good to me. He has blessed me with a tremendous talent. I just try to not take it for granted and make sure I work hard to hone it."