It's appropriate that London Fletcher was among the leaders in tackles in Sunday night's Pro Bowl in Miami.
As ESPN analyst and former NFL head coach Jon Gruden put it during the broadcast of the game, Fletcher has been a "tackling machine" the last decade.
Fletcher got off to a fast start in his first-ever Pro Bowl, recording three tackles in the game's first four plays.
He finished with five tackles in the Pro Bowl, second behind Dallas Cowboys cornerback Terence Newman.
Fletcher and Brian Orakpo, the Redskins' representatives at the Pro Bowl, were both in the starting lineup for the annual all-star game, played at Sun Life Stadium.
The AFC won the game 41-34.
Fletcher, who replaced Super Bowl-bound New Orleans Saints linebacker Jonathan Vilma on the NFC roster, was named a starter when San Francisco 49ers' Patrick Willis sat out the game due to an injury.
Before the game, Fletcher vowed he would make the most of the first Pro Bowl trip of his 12-year career.
"I'm extremely ecstatic," Fletcher said last week. "It is a long time coming, but it was worth the wait. I want to thank my teammates and coaches who helped me get this recognition. I want to also thank the fans and players who voted for me.
"It will mean a great deal to be out of the field with the best of the best in a different type of environment. I am excited to get to meet the families of the other players, get to visit and talk with the other guys around the league, and have an opportunity to play with them in this game."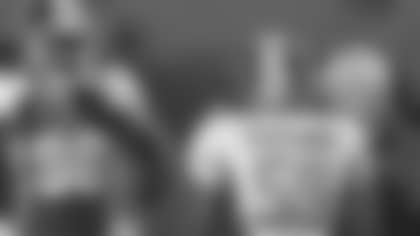 Last season, Fletcher led the Redskins' defense with 172 tackles (104 solo) and had two sacks, one interception and one forced fumble.
Since joining the Redskins in 2007, Fletcher has led the defense in tackles every season.
In the last decade, he led all NFL players with 1,386 tackles, more than 200 tackles ahead of linebackers Zach Thomas and Ray Lewis.
Orakpo, the Redskins' first-round selection (No. 13 overall) in the 2009 NFL Draft, is the club's first defensive rookie to make the Pro Bowl since the 1970 merger. He is only the second Redskins rookie to be chosen, joining running back Tony Green, who was honored as a punt returner following the 1978 season.
Orakpo started 16 games last season, alternating at linebacker and defensive end. He posted 60 tackles (41 solo) and finished tied with Andre Carter for the team lead in sacks with 11. He also had one forced fumble.
Orakpo admitted he was surprised that he was voted into the Pro Bowl.
"In your first year, you don't know what to expect, all you try to do is make a name for yourself just so people have respect for the way you play, and you're just trying to do the best you can," Orakpo said. "I was surprised because I'm just a humble guy, period. I've always been like that.
"You don't really look at individual awards. I'm always a team-oriented guy. And obviously our season has not been that great. That's more important to me than all the individual stuff.
"But at the end of the season, you can reflect back and see that you did have a great season. And that's what the Pro Bowl means, that I did do some good things throughout the season and people noticed."
Orakpo's signature game came in a Week 14 performance at Oakland when he registered four sacks for 44 yards lost, six tackles, three tackles for loss, and a forced fumble. The four sacks tied a Redskins franchise record, shared with Ken Harvey, Dexter Manley, Diron Talbert and Phillip Daniels.