London Fletcher had pulled down Brian Westbrook short of a first down, a key tackle in the Redskins' 23-17 win over the Philadelphia Eagles last Sunday.
Fletcher got fired up. He raced over to his teammates on the sidelines and celebrated with a yell.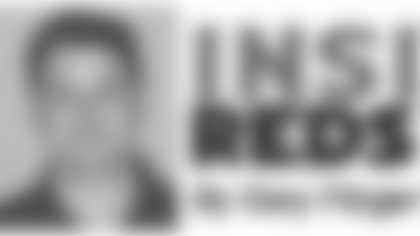 Fletcher is a tactician on the football field, so when he gets emotional, it resonates.
"I was excited to make a third-down stop," Fletcher reflected. "To know that they were going to punt it back to our offense--I felt like we could keep the momentum going in our favor. I just kind of let out a scream.
"I don't know what I was screaming. Sometimes football is played with passion and emotion. At that moment, I got caught up in it."
Jim Zorn would later call it a "heroic tackle."
It exemplified Fletcher's blue collar approach to the game, Zorn said.
Fletcher has only been a Redskin for two seasons, but it seems like he has been a mainstay at middle linebacker for years.
He leads the Redskins in tackles with 41 tackles and also has two passes defended and a forced fumble.
This Sunday, Fletcher faces off against the team he broke into the league with in 1998.
Fletcher joined the St. Louis Rams as an undrafted rookie free agent out of John Carroll University that year.
One season later, Fletcher was a standout at middle linebacker for the so-called "Greatest Show on Turf" in St. Louis. He started for the Rams in Super Bowl XXXIV, a game they won 23-16 over the Tennessee Titans.
Fletcher played four seasons with the Rams before moving on to Buffalo in 2002. He played for the Bills for five seasons and then signed with the Redskins as an unrestricted free agent in 2007.
Asked to reflect on his tenure with the Rams, Fletcher said the Super Bowl season remains a "special memory."
"We had a great group of guys," he said. "What we were able to accomplish, in a three-year run, was phenomenal. We played an exciting brand of football. We loved playing with each other and we loved coming to work.
"I still have the memories and I still think about it from time to time."
Only a handful of players from that club remain.
Torry Holt. Orlando Pace. Trent Green. Leonard Little.
"Just a couple guys now," Fletcher said. "The makeup of the team has changed dramatically."
Fletcher will be charged with taking down running back Steven Jackson, the 6-2, 235-pounder who has rushed for 1,000 yards each of the last three seasons.
The Redskins certainly remember Jackson from a 2006 contest in St. Louis. He compiled 252 total yards from scrimmage and raced 21 yards for a touchdown in overtime to give the Rams a 37-31 victory.
"He's a big back," Fletcher said. "He has some speed and he runs hard. They're going to do what they can to try to get him the football."
With Cornelius Griffin nursing a shoulder injury and Marcus Washington still slowed by a hamstring injury, Fletcher's presence filling the gaps and making tackles becomes more important.
Reserves have stepped up all season long, Fletcher said.
"It shows what type of character our team has and what type of professionals they are," he said. "They're taking their reps seriously and the coaches are getting them ready to play. It's a tribute to all of them."