With the average NFL career lasting fewer than three seasons, Redskins linebacker London Fletcher—now in his 15th season—has spanned five NFL generations.
A living time capsule of rule development, Fletcher has adapted to myriad changes in player safety, including increased concussion regulations, as well as rule changes like illegalizing horse collar tackles, helmet-to-helmet hits, high and low hits on a quarterback, and de-cleating defenseless receivers.
All the while, Fletcher has never tallied fewer than 116 tackles in a season, leading the NFL with 200 last season at the age of 37.
"I just had to adapt with the times in order to stay relevant and stay in the league," Fletcher told Redskins.com.  "It's definitely a more pass-first league right now.  Teams are looking to spread you out and pass the ball a lot more.
"It's tough to be as physical as you used to be against offenses, so you've had to adapt.  You can still play a physical brand of football; you just have to harness it a little bit."
After entering the league as an undrafted free agent in 1998, Fletcher has three Pro Bowl nominations and a Super Bowl ring to his name.  He is one of just three active players with 20 career interceptions and 30 career sacks (Ray Lewis, Brian Urlacher).
Most impressive of all, Fletcher has never sat out a week in his NFL career, and has not missed a start since Week 10 of the 2000 season, a span of more than 12 years.  In the last two seasons, Fletcher has shaken off significant injuries and gone on to post some of his best individual performances.
At age 38, there is nothing left for Fletcher to prove, and he knows it. His true motivation lies in his insatiable desire to win.
"It's really not about trying to prove anything, I just go out and try to play well each and every game," he explained.  "I try to prepare to be successful on Sunday's and give my team the best chance to win.  That's really what my motivation is: just making sure that I'm doing everything in my power to help us win football games."
With his sixth season in Washington this year, Fletcher has now played here longer than anywhere else in his NFL career, following a four-year stint in St. Louis and a five-year stop in Buffalo.
This is the first time Fletcher has tested the waters of free agency and returned to the same city, a decision made easy by the team's offseason acquisitions.
"Based on the process that I went through, I thought the most important thing was to get a franchise quarterback, and I think Robert [Griffin III] has proven that he is that franchise quarterback," Fletcher said. "Also, some of the other pieces they've added from the wide receiver stand point.  Garçon has been hurt but we've all seen what he's capable of doing if he's healthy.
"Alfred Morris, who was an unheralded guy, is making his impact.  That was big to just get some playmakers there.
Satisfied with the direction of the franchise, Fletcher signed a two-year deal to remain in Washington.  Speaking frankly, he downplayed the notion of it being a retirement contract, while hinting that the end is in sight.
"More than likely, yes," he said with a knowing smile.  "I don't really see myself playing beyond two more years.  I'm really on a year-to-year basis, that's how I look at it mentally.  I don't see myself going beyond that."
That's not to say that Fletcher is eyeing retirement, as he chases his first Super Bowl ring in more than a decade.  As captain of the defense, Fletcher holds himself responsible for the team's struggle to keep the opponents off the baord.
"I feel like I can always play better no matter what I've done," he said. "I'm pretty hard on myself with the way I critique myself.  My standards are extremely high.  I'm never satisfied regardless of how well I play.
"I'm always just looking to play better.  I still feel like one of the elite players at my position in the National Football League."
In addition to playing at a high level, Fletcher was brought back to mentor the next generation of talented linebackers in Washington.
"I don't think it's my only role to go out and just play good football and have that be it. I feel like I have a more important role on this football team," Fletcher said.  "At this point, I've given as much as possible to my teammates because I know I'm not going to be playing much longer. I want to give them as much as possible, to have them be successful, have long careers and become great pros."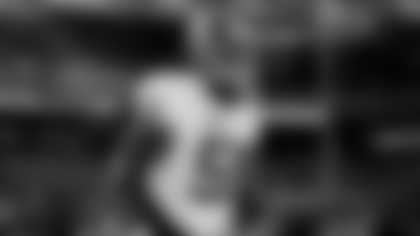 In the last four seasons, the Redskins have drafted a quartet of linebackers with big potential for the future: Brian Orakpo, Ryan Kerrigan, Perry Riley and Keenan Robinson.
Behind each one of their early success stories is the presence of No. 59, both on and off the field.
"I definitely try to give those guys as much information as possible to make them become successful," Fletcher said.  "Just show them how I prepare, and give those young guys the tools that they need to be successful.
"I want them to be successful when it's their time to take on the leading role as the linebacker for this team."
While Fletcher has trademarked outspoken leadership on the field, he is hesitant to overwhelm young players with too much information. He credits his teammates' eagerness to cohesion as a group.
"If a guy wants to be great at his position and he comes to me to ask for information, I love it," Fletcher said.  "I want guys to ask me more, really, just to be able to share all of this information with them.
"I want to give the guys as much as they want without bombarding them also—that's kind of how I look at it."
With a crucial game against the division-leading Giants this Sunday, Fletcher explained that the Redskins defense will need to come together as a group if they expect to neutralize Eli Manning and Co.
"We face the Giants twice a year, every year, and their coaching staff has been there my whole six years I've been here," he said.  "They're not changing what they do, and they know we're not going to change much.  We know each other; we're familiar with personnel from that stand point.
"It's just about executing what you're doing because there's not going to be a lot of disguise or tricks that we're going to pull out against each other."