To remain buoyant in its early years, the NFL welcomed all of the attractions it could find, players who could lure streams of fans to the ball park.
One of the league's premiere draws at the time was a tall, wiry Texan named Sammy Adrian Baugh.
Baugh was the top passer of his day. With the ability to whip them long and short, Slingin' Sammy lit the skies in his 16 seasons with the Redskins and helped revolutionize the pro offense, which was run-based before his rookie year in 1937.
In setting a host of passing records, Baugh threw for some 22,000 yards and led the league in passing six times, the most of anyone during his career. His completion percentage (56.7) was an all-time NFL best when he retired.
But fans witnessed more than a passer in Baugh, an outstanding multi-dimensional athlete in the days of single-platoon football. There is a lot of support for him as the greatest all-around player ever.
As a safety, he intercepted 31 passes, an NFL record that has been broken, and once picked off four in one game.
Also a master of the quick kick, he posted a 45.1-yard career punting average that stood as an NFL record for many years and still holds the all-time mark for the best single-season average (51.4).
In one year, 1943, Baugh led the league in passing, interceptions and punting.
They just don't make them anymore like Sammy Baugh, a charter member of the Pro Football Hall of Fame in 1963.
The six-time All-NFL player was one of four quarterbacks named to the NFL's 75th anniversary team in 1994--along with Joe Montana, Johnny Unitas and Otto Graham--and was honored as a member of the all-time two-way team.
He was No. 11 on The Sporting News list of the 100 greatest players of all time, announced in 1999.
How good was Sammy Baugh?
"He was the best passer I ever saw," said Ace Parker, one of Baugh's contemporaries at quarterback and a fellow Hall of Famer. "He could do everything. He could pass, he could play defense, he was the best kicker, and he still holds the single-season punting record (51.4)."
Another Hall of Famer and triple threat, Bill Dudley, concurred.
"He was the best, as far as I'm concerned," said Dudley, who teamed with Baugh for two seasons in the early-1950s. "He could not only throw the ball. He could play defense, he could punt the football, he ran it when he had to.
"He and I roomed together, and he was a football man. He knew football, played it, and everybody had a lot of confidence in him."
Baugh had charisma, to boot. He carried an allure with fans, who mobbed the friendly fellow from Sweetwater, Texas at home and on the road for autographs.
In D.C., his magnetism helped pack Griffith Stadium starting in 1937, when the squad won an NFL championship in its maiden season in Washington. Baugh played on Redskin teams that won another championship in 1942 and made five title game appearances by 1945.
Bernard Nordlinger, a D.C. lawyer who helped incorporate the Redskins when they moved from Boston to Washington, explained the area's fascination with the team in two words. "Sammy Baugh."
He added: "He was a colorful character, and he was a magnificent athlete, dramatic, totally different than football players today. He was like the Babe Ruth of football. He was an incomparable attraction."
Prior to his pro career, Baugh captivated fans at Texas Christian University, where the two-time All-American established himself as the greatest passer in college football history at the time.
He helped propel the Horned Frogs to Cotton Bowl and Sugar Bowl wins, and a 1935 national championship. Joe Namath and Joe Montana are the only other quarterbacks who have claimed both college and pro championships.
Redskins owner George Preston Marshall, who drooled over Baugh's talents, swiped him with the sixth overall pick in the 1937 draft. After throwing a touchdown pass in a 6-0 victory by the college all stars over the defending-champion Green Bay Packers, he signed with the Redskins for an NFL-high $8,000.
And from the first day of training camp in September 1937, Baugh was cool and confident. He was tossing passes when Redskins coach Ray Flaherty told him it's easier for receivers to catch a ball thrown around their face, and that he should target the eye.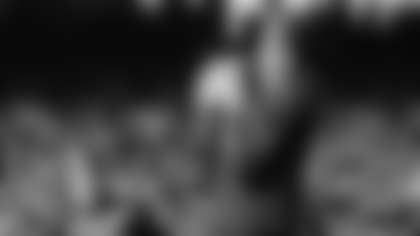 Photo Album Sammy Baugh](/media-gallery/photos/sammy-baugh-1914-2008/56F38ACD-BFCA-4138-AB91-402E0291FF7D)

As the mythical story goes, the brash rookie nodded before asking, "Which eye, coach?"
Slingin' Sammy found his mark. Playing tailback in the old single-wing formation, he completed 91 passes in 218 attempts for 1,127 yards as a rookie, all league-highs, and was named a first-team All-Pro. His 91 completions were an NFL record.
He broke with tradition that the pass was a desperation tactic reserved for 3rd-and-long and boldly threw on first and second down, and from punt formation.
Baugh showed how great he was in the 1937 NFL championship game.
He completed 17 of 34 passes for 352 yards and three touchdowns while willing his squad to a 28-21 win over the Bears.
In for every offensive and defensive play, he was crippled by game's end after taking a beating on Wrigley Field's frozen tundra. He received a standing ovation from Redskins and Bears fans alike upon leaving the field for the last time.
At that point, "Baugh slipped into football immortality," Washington Evening Star sportswriter Francis Stan wrote on Dec. 13, 1937. "Eckersal and Thorpe, Cagle and Grange, Nagurski and the Four Horsemen, Oliphant and Hefflefinger...they moved over, these burly ghosts of the past, and made room for Slingin' Sammy."
Michael Richman is the author of The Redskins Encyclopedia, a 432-page book that spans the 75-year history of the storied franchise. He co-hosts a show on ESPN 840 in Charlottesville, VA called the "DC Sports Blitz." His Web site is **www.redskinshistorian.com*.*