Back in 2006, Betts had a breakthrough season, showcasing explosive running and charging through tacklers at the line of scrimmage for big gains.
He compiled a career-high 1,154 rushing yards on 245 carries and averaged an impressive 4.7 yards per carry.
Betts performed so well he earned a contract extension from the Redskins.
Since then, Betts has served as a complementary back to Clinton Portis. He had 93 carries in 2007 and just 61 carries last year and he exceeded 10 carries just three times in that span.
With Portis sidelined on Sunday vs. Denver, Betts rushed for 114 yards on 26 carries and had a 1-yard touchdown run.
It was his first 100-yard effort since 2006, when he had 129 yards in Week 16 against the St. Louis Rams.
With Betts back in rhythm in the ground game, it seemed like old times.
"Ladell is just a hard hat, lunch pail type of guy," Todd Yoder. "He comes to work every week. He runs hard. He runs downhill. His style is different than other backs, but it's effective and he always hits the hole hard."
Said Betts during a post-game press conference: "It feels good. I was just joking on the way [to the press conference room] that I didn't remember how to get to this room, I haven't been in here in so long. It has probably been about three years."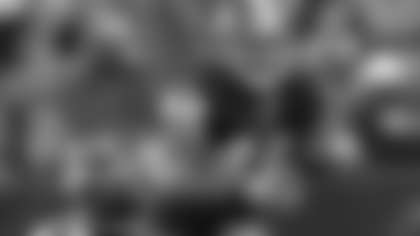 Betts, a 2002 second-round draft choice by the Redskins, has always been at his best when he gets 10 carries in the ground game.
"I think that's common with most running backs," Betts said. "The more carries you get, the more you get a feel for how a defense is playing, whether they're pursuing and how they're attacking you."
Betts was able to get in a rhythm despite a severely sprained ankle that limited him in practice last week.
"Once my adrenaline got going, I knew I would be fine," he said.
The Redskins started a makeshift offensive line against the Broncos, with Levi Jones starting at left tackle, Stephon Heyer shifting to right tackle and Chad Rinehart coming in at right guard.
Betts and Rock Cartwright--who added 41 rushing yards in the win--seemed to be in sync with blockers the whole game.
"At halftime, coach asked us what we wanted to do, and we said, 'Run downhill,'" Betts said. "That's what we did. They kept dialing it up and we just allowed the linemen to get on their blocks. And we kept making yards."
Said Jones, who made his first start as a Redskin: "They were running hard. Every time we pushed somebody over, we would turn around and look--and the ball was gone. They definitely did their thing and took advantage of the holes we gave them."