As Colt Brennan walked around the Redskins practice facility earlier this week, the red, white and blue Popsicle he was holding slowly started to vanish.
"I came into this league to become a starting quarterback," the Redskins' third-string quarterback said. "Every day, every year, is another step towards that."
When Brennan jogged onto the field in the third quarter of last Thursday's preseason game against the Baltimore Ravens, the team and their fans witnessed the beginning of Brennan's second chapter in the NFL.
Four for twelve. Forty-three yards. One interception.
Neither the start he was looking for, nor the gaudy numbers the former University of Hawaii golden boy is used to putting up.
Thursday night's unproductive jaunt, however, was a necessary step for the progression of Brennan. It was part of a 23-0 loss to the Ravens.
"To put all of that on him is not fair," offensive assistant coach Chris Meidt said. "He had a couple of great throws. He protected the football and he scrambled and gained some positive yards. We had some protection issues, so he spent time scrambling around."
Fortunately for the young quarterback, there's no rush.
As the Washington Redskins prepare for the regular season, there are three certainties: Jason Campbell is the starting quarterback, Mike Williams is the largest human being this side of the Beltway, and Colt Brennan has been dubbed by some Redskins faithful (lovingly called the "Cult of Colt") as the next coming of Sammy Baugh.
In fact, Brennan is such a fan favorite that if the typical Redskins fan were a 14-year-old girl, he would be a Jonas brother. Judging from his various outbreaks into song around the practice facility, he may just be the fourth Jo-bro, albeit a hip-hop loving more down-to-earth version.
Entering his second NFL season, Brennan, who celebrated his 26th birthday on Sunday, is still considered a project.
"Right now, I'm the third string competing for number two [with Todd Collins], and I'm just trying to move up the depth chart and really just try to progress through the offense overall," Brennan said, his grey undershirt drenched in sweat following a recent practice.
"I think the expectations between myself and my coaches will be how I manage the game, how I progress mechanically, and just handling the offense. Basically what they've said is they're happy with the way I've worked and gotten so much better from last year."
As a rookie in 2008, Brennan had sudden--and unexpected--success in preseason.
Brennan completed 9-of-10 passes for 123 yards and two touchdowns in his preseason debut against the Indianapolis Colts last year. The former college walk-on continued to shine throughout the five-game stretch, completing 67 percent of his passes for 411 yards, three touchdowns and no interceptions.
His preseason numbers led all rookie quarterbacks--including the likes of Matt Ryan and Joe Flacco--in touchdown passes, passing yards and quarterback rating throughout the preseason.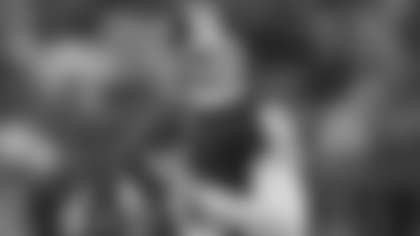 "I know that with the preseason I had last year, there's going to be a huge expectation from the fans and people out there just to see if I can come in and have success again," he said.
Preseason victories don't carry over into the regular season, of course. Preseason does represent an opportunity for unheralded athletes fighting for a roster spot to strut their stuff, though.
Enter "Nephew," the nickname that the Redskins' cornerbacks have given Brennan.
"When it comes time for preseason, I want to have four great games and I want everybody to step back and say, 'Wow, look how much the kid has grown from last year," Brennan said.
"So I'm just planning on going out there and producing, making plays, managing the offense, moving the offense and scoring points."
While Brennan struggled against the Ravens, he is confident that the Redskins' backup quarterback job will be determined in the preseason, "when the lights are on and everything's flying around out there and it's real."
The person responsible for the ultimate decision is head coach Jim Zorn, a former quarterback who has made Brennan his personal project over the last year and a half.
"I think Colt has come a long way. I think the way I get on him, he probably doesn't feel like he's come a long way, but I'm pushing him and he has come a long way," Zorn said. "When he first got here he was a little bit all over the place. Now he's being more disciplined in the pocket."
Brennan notices the improvement as well, noting that Zorn is focusing more on his footwork than his unorthodox throwing motion.
"Coach Zorn works on my feet continuously," Brennan said. "He feels that once I get my feet straight, that will put me on the right rhythm and allow me to time out this offense better. He is always pushing me, and at the same time he is always there to work with me and tell me what I'm not doing right."
Meidt echoed that Brennan's work ethic is also a big reason for his continued progression.
"He is preparing well. He is studying well," Meidt said. "Last year, I think the speed of the game and the attention he got made it hard for him to concentrate like he has this year. On the practice field, he is learning to play at [a faster pace] all the time. It helps him to have Jason Campbell to see how he prepares and how Jason works."
Even with Brennan's continued development--Thursday night's interception was only his second of the preseason, including training camp--he takes nothing for granted.
"You can't ever be content with where you're at right now," Brennan said. "When it comes down to me and Todd, it's just whoever goes out there and plays the best. That's nice. That's the way you want it. Especially in this league. Whoever plays the best."
A sentiment as nice as a red, white, and blue Popsicle.