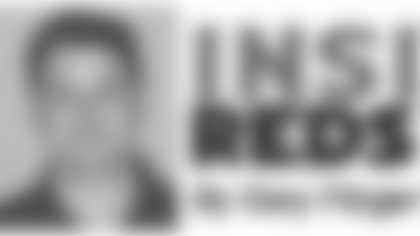 Jason Campbell absorbed sack after sack, hit after hit, against a stout Pittsburgh Steelers defense on Monday night.
Sooner or later, the hits would add up.
And Campbell would make a mistake.
It happened midway through the third quarter, with the Redskins driving into scoring range.
Campbell was pressured off the edge and he threw in the direction of Portis to the left. The pass appeared to be tipped at the line of scrimmage.
Cornerback Deshea Townsend was there for the interception.
It was a critical turnover. Pittsburgh, leading 16-6, had thwarted a scoring opportunity. They turned around and drove the other way for their third and final touchdown of the game in a 23-6 victory.
The interception also ended a remarkable streak for Campbell and Redskins quarterbacks.
The team has set an NFL record streak of 12 consecutive games and 379 pass attempts without an interception, dating back to last season.
For Campbell, it was his first interception after 271 consecutive passes, a franchise record.
"It was a play where a defender came in low on my leg and I tried to flip it to Portis," Campbell said. "Any time a ball gets tipped in the air in the NFL, more times than not it's going to get intercepted. They intercepted it and it was a great play on their behelf."
In the fourth quarter, Campbell tossed another interception as he tried to lead the Redskins on a comeback. His throw was picked off by strong safety Tyrone Carter on a pass to James Thrash.
"It was just a miscommunication between me and the receiver," Campbell said. "You just move on from that."
It was a long night for Campbell, who was sacked seven times by an aggressive Pittsburgh defense.
He finished the game with 24-of-43 passes for 206 yards and a QB rating of 49.2. Most of the passing yards came in the fourth quarter as the Steelers' secondary stayed back to prevent big plays.
Overall, the Redskins posted 221 total yards of offense and converted just 3-of-15 third-down plays.
Campbell called the Steelers' defense "relentless" in their pass pressure.
"They would not bend at all," Campbell said. "Even at the goal line, they were tough. They played real sound and you have to give them a lot of credit. They're smart and they did a real good job. They showed us a lot of different looks."
Said Chris Cooley: "[The Steelers] did a good job of getting pressure on Jason and we didn't run the ball very well early on. Passes took longer to develop. We were able to make short plays and a few times we were able to put together the starts of drives, but at no point in the game were we able to finish."
Campbell said the Redskins would learn from the tough loss.
After five preseason games and nine regular season games, the team welcomes the bye week, though.
"We are 6-3 and we're at the break point, and we're getting a much-needed break," Campbell said. "We just need to bounce back when we get back in next week. We can't get discouraged. We're still in a good position."