Jason Campbell dropped back to pass and scanned the field.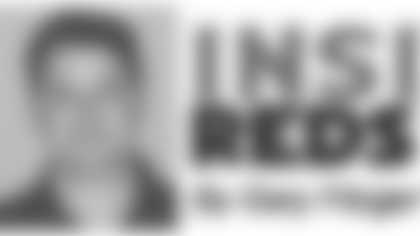 He waited for a receiver to get open.
As the pocket started to get tighter, Campbell hesitated again, hoping a receiver would find open field.
Finally, Campbell threw across the middle of the field to Santana Moss.
The result: an incomplete pass during last Saturday's preseason game against the New York Jets. The drive culminated with a 30-yard field goal by Shaun Suisham.
It's the hesitation that has been a focus this week for Campbell and Jim Zorn.
Zorn wants Campbell to make quick decisions with his throws.
"I just need to continue to let Jason know to throw sooner, and when he makes his initial move to let the ball go," Zorn said. "He sees it and is working towards it.
"The hard part is to tell a guy that has made the right read, made the throw, and completed it, but it is not as good as I wanted it. It's good, but not great."
Campbell was impressive in the Redskins' first two preseason games, but he was inconsistent last Saturday in the 13-10 win over the Jets.
Overall, Campbell has completed 16-of-25 passes for 160 yards and one touchdown this preseason. His QB rating is 95.4.
Campbell said he has focused on making good decisions with his throws.
Now he needs to make those decisions quicker.
He may need to make those decisions even when a receiver is still battling coverage on his pass route.
Said Campbell: "It's not necessarily a matter of going with your gut when you make a decision to throw the ball. It's that you want to make sure you're sound with your decision. [Sometimes] you're more afraid of making a mistake than letting loose.
"In the Jets game, I just needed to let it loose. If you see it there, just give the receiver an opportunity to make the play. Go ahead and trust your arm to make those throws."
Of course, preseason is the perfect time for Campbell to work on decision-making and learn from mistakes.
"You need to be placed in all kinds of situations in preseason so you can learn from them and be ready for the regular season," Campbell said. "If those situations don't come up now, it makes it harder when they do come up during the regular season."
Campbell continues to have a good rapport with receivers Moss, Antwaan Randle El and Chris Cooley, who have caught the majority of his passes in preseason games.
"We have done some positive things this preseason, and I think we're where we need to be heading into this dress rehearsal," Campbell said. "I think we have been growing in a lot of areas. We're trying to add some new things during the week as well.
Campbell says he feels confident operating Zorn's new offense.
"Once you step on the football field, there's no going back," Campbell said. "It's all about playing hard, playing tough and being physical. We have had a good preseason and we have to feel confident in what we're doing."