Jason Campbell entered Monday night's game against the New York Giants on a roll.
Coming off five strong performances, including a 34-13 win over the Oakland Raiders on Dec. 13, Campbell was hoping to notch his first career win in six tries against the Giants.
Instead, it was another difficult loss.
Campbell was 15-of-28 for 192 yards with one touchdown and two interceptions as the Redskins were trounced by the Giants 45-12 at FedExField.
He was under a constant barrage of pressure from the Giants and was ultimately sacked five times.
"I think it's the worst game of my career, since I've been here," Campbell said in his post-game comments. "We got beat in every phase of the game. It was a total team loss."
The Redskins' offense opened the game with three consecutive 3-and-outs and Campbell could not develop a rhythm.
Meantime, the Giants scored on their first four possessions to open up a 24-0 lead midway through the second quarter.
"They were pretty much on everything we were doing the first part of the game," Campbell said. "Everyone was booing, but there was nothing open. There was nothing we could do about it. They were bringing the rush and you get hit."
Late in the first half, Giants defensive end Osi Umenyiora pounced on Campbell for a sack.
Campbell aggravated a shoulder injury on the play and Todd Collins came in for a series of plays. Campbell was sidelined the remainder of the half.
Head coach Jim Zorn said he planned to start Collins in the second half.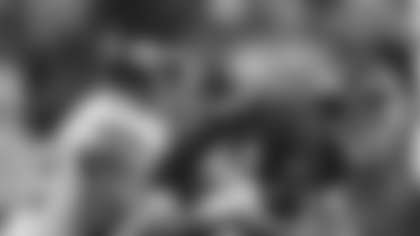 Jason Campbell is sacked by
Osi Umenyiora. (AP Photo)


"Then when Jason came out and warmed up, he felt good and he felt like he could play, so I told him to go until he couldn't do it," Zorn said. "If he got hit much more and got another shot to his shoulder, I was going to take him out of the game."
Once again this season, Campbell showed toughness by coming out in the third quarter and resuming play.
Said Campbell "Coach asked me at the half, 'Should we go with Todd so you can see how you feel?' I told him that I would rather go while I was warmed up because once you're standing there for a while you start to get cold."
Last week, Campbell said that beating the Giants would be something of a benchmark in his career. He is now 0-6 in his career against the Giants.
"It's something I've thought about," he said. "That's the one team, for whatever reason, they have been a tough nail for us over the last couple years."
The Redskins are 0-5 in the NFC East this season and they take on the Dallas Cowboys next Sunday at FedExField.
Campbell is 1-3 in his career against the Cowboys, the lone win coming on Sept. 28, 2008, when the Redskins won 26-24 in their final game at Texas Stadium.
In Week 11 earlier this season, the Redskins lost to the Cowboys 7-6 at the newly christened Cowboys Stadium in Arlington, Tex.
Campbell was solid in the passing game, completing 24-of-37 passes for 256 yards, but he could only lead the offense to two field goals. He threw a costly fourth quarter interception that ended any hope of a Redskins comeback.
For the season, Campbell is ranked 16th in the NFL with an 87.0 passer rating. He has completed 64.6 percent of his passes for 3,138 yards, 18 touchdowns and 14 interceptions.
He has been sacked 38 times, fourth most in the league.