Hand in the dirt, Andre Carter rears back and bursts off the line of scrimmage.
Destination? Always the quarterback.
Pass rushing is Carter's specialty, of course.
Always has been – ever since he entered the NFL as a defensive end with San Francisco 49ers and posted 25.5 sacks his first three years in the league.
So when Redskins coaches approached Carter last offseason about playing outside linebacker in a 3-4 defense, he hesitated.
Carter shifted to linebacker in 2005 with the 49ers, so he knew he would be asked to drop back in coverage and play more in space.
It was something he did not believe fit his skill set.
Still, Carter, who joined the Redskins as a free agent in 2006, went along with the plan.
And in the process, he learned something about himself.
At age 31, after nine years in the NFL and 63.5 career sacks, Carter proved he was open-minded enough to shift gears mid-career and take on a new role.
"I had 11 sacks [in 2009] and I was coming off one of the best seasons of my career, so to come in and learn the linebacker position again – it was tough," he admitted. "But I swallowed my pride and I did it for the benefit of the team."
He added: "As a man of faith, I know that God is always going to have a plan for me regardless of what defense I'm in. My faith was definitely tested this year, but I'm thankful for the experience. Through good and bad, I learned a lot about myself. Anything is possible."
Midseason, defensive coordinator Jim Haslett decided to alternate Carter and Lorenzo Alexander at outside linebacker.
Alexander started in the base defense and Carter was used more in pass-rushing situations. His hand was back in the dirt.
"He is good at what he does," Haslett said. "We tried to change him a little bit, but obviously it didn't work out exactly like we thought it would. He is good at what we are doing with him and he is playing a lot."
Through 15 games this season, Carter has posted 54 tackles, 2.5 sacks, a forced fumble and a fumble recovery. His 18 quarterback hurries are fourth-best on defense.
Overall, the Redskins' defense has struggled in 2010. The unit is ranked last in the NFL in yards allowed, 25th against the run and 31st against the pass.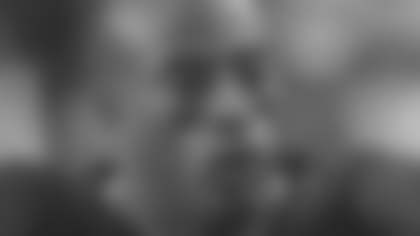 For a prideful defense, those stats are tough to accept.
Carter has stressed communication and attention to detail as the key to improving the defense in the final weeks of the season.
"One thing we've done well this season is constantly play physical," he said. "But we have to stay focused on the little things. In a 3-4, if one player is out of place, it can set that particular play off balance.
"Front end, back end, linebackers, the gap, coverage – we all have to be in sync. When we don't have that, teams make big plays on us."
The Redskins' transition to the 3-4 continues into the offseason.
It's hoped that another year in the scheme – and perhaps different personnel – improves the ranking.
Rushing the passer is sure to be a focus. The Redskins have 25 sacks this season, tied for 26th in the NFL.
With 34 sacks in his five seasons with the Redskins, Carter needs 1.5 more to tie Dave Butz for the fifth-most sacks in franchise history (since sacks stats were kept starting in 1982).
"Whatever happens next year, I made my mark here and I'm very thankful for everything from 2006 to now," Carter said.