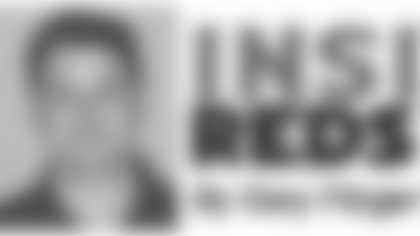 Devin Clark's football career is all about taking steps.
Clark arrived at Redskins Park last May as an undrafted rookie and he worked his way from the practice squad to a spot on the active roster in mid-December.
He saw action in two games, serving as a lineman on special teams.
Redskins coaches have been impressed with Clark since he joined the club. Earlier in the offseason, Jim Zorn mentioned Clark as a player who could make strides in his second year.
"I just want to keep moving up and show the coaches what I can do," Clark said. "If I go out and compete and play to the best of my abilities, hopefully I'll earn a roster spot again."
Prior to joining the Redskins, Clark was a two-year starter at right tackle at the University of New Mexico.
Redskins coaches have Clark, 6-4 and 312 pounds, positioned as a guard.
The Redskins have starters Randy Thomas and Derrick Dockery at guard, so Clark is expected to compete for a backup job with 2008 third-round draft pick Chad Rinehart and a host of other candidates.
Clark realizes that, at this stage of his career, he needs to put his best foot forward.
"I'll take most of my reps at guard, but I can play some tackle," Clark said. "We'll see what happens if they bring in some tackles. I'm just trying to earn a roster spot, so I'll do what they say is best for me."
This offseason, Clark is working to improve his footwork--a key to success for any offensive lineman--and getting into proper position after the snap.
Again, it's one step at a time.
"It can be hard, because there are so many plays and so many different directions you have to go," he said.
Footwork can vary depending on if the play calls for zone run blocking or pass protection. Clark's approach is to keep it simple.
"It's all about that first step," he said. "If you get that right step, then you're in the right position when you go against [defensive linemen]."
Clark hails from Austin, Tex.
Last year, Clark was projected to be a seventh-round draft pick, but he was not selected. Draft experts suggested that he needed to get bigger and stronger and improve in run blocking.