Commanders' safety Kam Curl returned for workouts this summer with a lot less hair than he had at the end of last season. For most, this sort of change warranted nothing more than a nod or compliment. For the Washington Commanders' equipment staff, however, Curl's new look came with serious considerations. 
"He showed up one day and his helmet did not fit him," recalled Justin Brooks, the Commanders' co-equipment manager. "That's an absolute real concern."  
Preseason comes with an influx of new hairdos and new players that the equipment staff must address and adjust to. That element is just one of the many that make training camp specifically unlike any other time of the year for this department. During training camp, their staff more than doubles. The turnarounds are quicker. The mornings are early, and the days are long. Joint practices this year added in some more wrinkles.   
And over these grueling summer weeks, the equipment staff, led by Brooks and Drew Curls, pushes to find rhythm amidst the busyness and improve every day to help the Commanders be their best.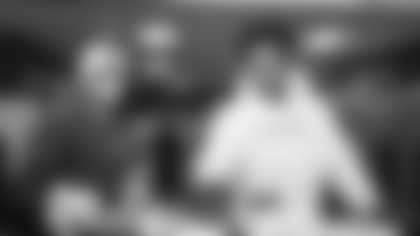 The majority of the equipment department's training camp action takes place across from the team locker room at OrthoVirginia Training Center. Clothes and towels are stacked, jerseys are sorted, and rolling laundry carts bustle from one room to the next. The scenes can look like several coordinated dances, and this time of year, the count of the production, it seems, picks up.
"During training camp, the roster size makes a difference, but I think the big thing is the schedule," Curls said.
Nearly every practice of training camp involves a morning and afternoon session, which means more and faster laundry than usual for Curls, Brooks & Co. Practice jerseys must be washed and dried in between the sessions, plus the number of towels used perhaps doubles as the players often shower twice a day. And while this part of their day-to-day training camp work is significant, it is by no means their only job.
"A lot of people think our job is just laundry, but it feels like that is probably 5% of all that we do," Curls said.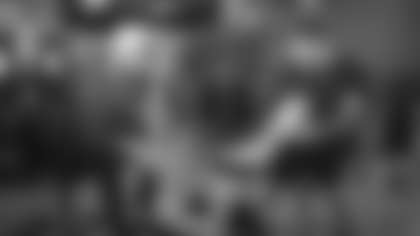 Other duties include disinfecting gear, working with moving companies ahead of gamedays, deciding what equipment should travel, packing and unpacking, fixing equipment malfunctions and, above all, making sure that players are as safe as possible from an equipment perspective when they step out on the field.
"Fittings are far and away the most important thing when it comes to player safety," Brooks emphasized. "Fitting of the helmet, fitting of shoulder pads, and even cleats. Just because a guy says he wears a size 10 sneaker, that doesn't mean he wears a size 10 cleat."
This aspect of the equipment team's job is so critical, in fact, that Curls and Brooks have to be tested on the protocols every three years as part of their Athletic Equipment Managers Association (AEMA) certification. Below that priority sits player comfort, and training camp becomes a crucial time for learning guys' individual preferences.
For example, one of the many items on Curls' to-do list at the end of training camp week three is making sure the team's QB2 feels as good as possible come next gameday.
"Jacoby Brissett is kind of an old school type of quarterback where he wants those like open sleeves … So I have blank jerseys here in my office that are the style that he wants," Curls explained. "I will press and seal his numbers on the front and back and then his name. So that would be something that I can do from scratch here. I have all the parts to do it, and I have my sewing machine."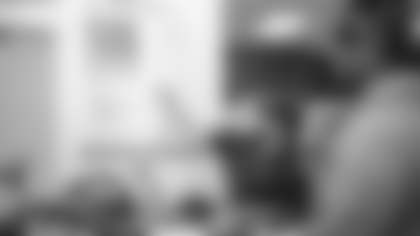 Being on the equipment staff means this kind of constant information intake, quick problem solving and attention to detail. Excel sheets and inventory processes help, but no system is perhaps more essential to the smooth flow of the equipment staff's work than human relationships.
"We're here seven days a week with them, we know what they want sometimes before they know what they want. That's part of our job, to build those relationships," Brooks said. "We have to sort of be a family, and that honestly starts with Coach [Ron] Rivera, [general manager Martin] Mayhew and those guys in terms of the culture they've established, and the players they've brought in. That makes it easier for us to relate to them."
The relationships that contribute to the equipment team's work are not confined to the building or even the franchise. Guided by shared values around player safety and comfort, equipment teams across the league communicate with another as needed. That report becomes vital when dealing with situations that do not come around every year.
This summer's joint practices with the Ravens required all kinds of logistical planning and coordination between the respective departments. "No detail is too small," to use the words of Brooks in the lead up to the trip.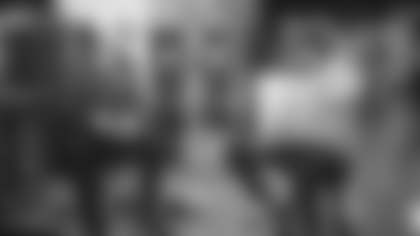 The impact of the across-league equipment team relationships also shows up meaningfully in the routine components of the NFL world. When a new player joins the Commanders, for example, initiative taken by the equipment team can get the chapter in Washington started off on an exciting and welcoming foot.
"If a guy comes over from another team, we'll make sure to get their information from that team's equipment staff. And the whole point of that is creating an environment where they feel well taken care of right off the bat," Brooks explained. "A player coming in and already having all his sized stuff in his locker is very different from going up and asking a player, 'Hey man, what size do you wear?' And of course, you can still have those dialogues, but it's cool for them to walk in and have a whole locker set up. It says, 'You already have a place here.'"
In this way, the equipment staff are teammates to the players. They have to listen and care about each other on a personal level. What they must lean on most to be partners in success cannot be inventoried or ordered; It's traits like thoughtfulness, respect and passion.
These in combination with the staff's many hard skills from sewing to sorting support the Commanders' ultimate goal: winning. Just like the guys in uniform, there is perhaps no experience for the equipment team that brings more gratitude for the work they get to do than a victorious gameday.
"You look at all the things we do to help provide everything for the players, for the coaches throughout each week, and the game is like our final product," Curls said. "The guys are on the field now, and we've done everything we can to put them in the best position to win a football game. Winning is always the best feeling."