Chris Cooley remembers the moment that breast cancer became something more than a disease.
His mother Nancy was diagnosed with the disease two years ago and underwent chemotherapy. She drove to Chris's house in Northern Virginia and asked him a question that he can never forget.
"Would you please buzz my hair for me?" his mother asked.
Gradual hair loss is a side effect of chemotherapy. Instead of losing her hair gradually, Nancy decided to cut it off all at once.
So Cooley found a razor and cut off his mother's hair.
"We tried to make light of it, we tried to laugh, but it was really emotional and I know it was really hard for her to lose her hair," Cooley said. "I think that was something that made it more real than it already was."
A year ago, Cooley wanted to find a way to support women who were undergoing chemotherapy, battling breast cancer--and surviving.
Cooley, the Redskins' sixth-year tight end, set up a luncheon with breast cancer survivors at Redskins Park and took them on a tour of the facility.
"We wanted to have a day where everyone could come together and share their experiences," Cooley said.
A year later, the event has grown into the "All Star Survivors Luncheon" and included the American Cancer Society and a host of Redskins players and their wives.
Twenty breast cancer survivors were invited to this year's event. In addition to a lunch and tour of Redskins Park, they were treated to an afternoon of pampering that included receiving a brand new wig and scarf, a makeup session with a licensed cosmetologist, $300 worth of makeup and a new pair of jeans donated by Gap, Inc.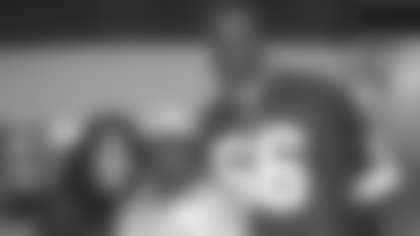 Derrick and Emma Dockery with breast cancer
survivor Margaret Walke. (Ned Dishman Photo)


Derrick Dockery and his wife Emma, both of whom have also been personally affected by breast cancer, joined Cooley and his wife Christy in hosting the event.
Derrick's mother Sheila is a 15-year cancer survivor at age 52, but he lost his aunt to the disease a year ago. Emma lost her mother to breast cancer three years ago.
"This has hit us close to home, so it's very touching to be a part of this," Derrick said. "We're here to lend a helping hand and hopefully put a smile on somebody's face."
Tanya Snyder, wife of Redskins owner Daniel M. Snyder and the NFL National Spokesperson for Breast Cancer Awareness, was on hand for the event.
So were Mike Williams and his wife Enisha, Lorenzo Alexander's wife Manjanique, Phillip Daniels' wife Leslie, Rocky McIntosh's wife Alessia and Brian Orakpo's fiancée Bitura.
Jim Zorn's wife Joy, Danny Smith's wife Elaine and Sherman Smith's wife Sharon were among coaches' wives who attended the event.
The event was part of the Redskins' breast cancer awareness campaign this month.
The campaign includes Zeta Tau Alpha (ZTA) sorority members handing out 45,000 Think Pink ribbons and education cards at the Redskins' game against the Tampa Bay Buccaneers this Sunday at FedExField. GlaxoSmithKline is partnered with Think Pink and the Redskins in the campaign.
Also, the Redskins are teaming up with George Washington University Medical Faculty Associates to provide free mammograms for underserved area women throughout the month of October.
George Washington University's "Mammovan" will be on site at FedExField on Sunday to provide free educational materials and tours.
At Tuesday's All Star Survivors Luncheon, Cooley said he was grateful for the Redskins' support of the event and for the team's breast cancer awareness initiatives.
Cooley also said he was proud of his mother, who was "very fortunate to beat cancer."
"[Breast cancer] is something that has directly influenced my life," he said. "I don't know exactly what these women are going through, but I kind of feel like I can relate because I've seen my mom go through it. It's something that I care about a lot."