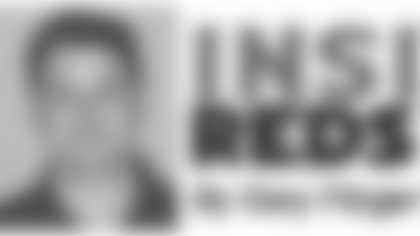 For weeks, the Redskins' defense had heard about their surprising lack of sacks and turnovers this season.
On Sunday in Seattle, they had two sacks and two interceptions--all pivotal plays in the Redskins' 20-17 win at Qwest Field.
It was quality and quantity in Sunday's win for the NFL's fourth-ranked defense.
Early in the third quarter, Rocky McIntosh recorded a sack of quarterback Matt Hasselbeck on a key 3rd-and-6 play.
On the Seahawks' next drive, LaRon Landry made a diving interception of an overthrown Hasselbeck pass. The play set up the Redskins' second touchdown of the game.
After the Redskins had taken a 20-17 lead midway through the fourth quarter, Lorenzo Alexander--with some help by Demetric Evans--sacked Hasselbeck on a 1st-and-10 play.
Alexander's sack forced the Seahawks into second and long and third and long. They could not convert.
Finally, Shawn Springs picked off an under-thrown Hasselbeck pass to thwart the Seahawks' last chance at a comeback.
"I was standing right there and I was amazed at how Shawn had to torque his body to make that catch," Jim Zorn said. "Matt had to throw quick, and we came up with it. What a huge play.
"It really took making a few of those types of plays to win this football game. We played a really good offense with Matt being one of the better quarterbacks in this league."
Overall, the Redskins have just 17 sacks this season. Evans leads the way with 3.5 sacks.
They have 10 interceptions, led by Chris Horton's three, and seven forced fumbles.
Against the Seahawks, the defense allowed just 228 total yards and 13 first downs.
Seattle was just 3-of-10 on third-down conversions, too.
Hasselbeck, who has been sidelined part of this season with a back injury, finished the game with 12-of-24 passes for 103 yards and two touchdowns. His QB rating was 54.7.
The run defense is going to have to be shored up, though.
Running back Maurice Morris picked up 103 yards on 14 carries against the Redskins. He also led the Seahawks in receptions with three for 10 yards, including a 4-yard TD catch.
Overall, the Seahawks rushed for 139 yards on 20 carries, a lofty 7.0 yards per carry average.