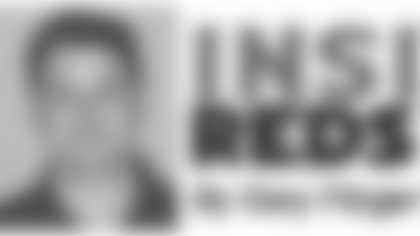 In Derrick Dockery's early years with the Washington Redskins, every spring he would watch high profile free agents and draft picks arrive at Redskins Park to host seemingly momentous press conferences.
He was a high profile free agent this offseason and chose to re-sign with the Redskins last Friday after he was released by the Buffalo Bills on Feb. 26.
Dockery steps back into his familiar No. 66 jersey and left guard spot, adjacent to his close friend Chris Samuels.
"You don't know how much I missed playing here," Dockery said in a Tuesday press conference. "We still have our home here, so every time we would come back, I would always run into fans. They would ask me how I'm doing, when I would come back--and everything worked out for me to be back."
Dockery was a third-round draft pick by the Redskins in 2003. He earned a starting assignment his rookie year--and has started 93 consecutive games heading into the 2009 season.
He signed a lucrative free agent contract with the Buffalo Bills in 2007, but he was released after just two seasons.
Prior to releasing him, the Bills had tried to trade Dockery to the Detroit Lions, but the deal did not work out.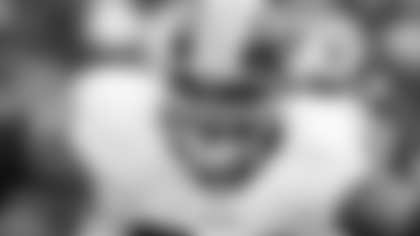 Dockery admitted his departure from Buffalo was a "humbling experience" and a "shock."
He was less surprised when he immediately started receiving phone calls from Redskins offensive line coach Joe Bugel.
"Buges must have called me about 60 times," Dockery said. "He kept on saying, 'Dock, I love you' and 'Dock, this is your home.'"
Dockery ended up visiting Detroit anyway. The Lions were eager to sign him even though the trade did not work out.
But in his heart, Dockery knew he would be coming back to Washington.
"I just believe it was meant to be for me to be here," Dockery said. "Everything happens for a reason and I'm just elated to be back. This is where I belong."
The Redskins run the West Coast offense under Jim Zorn now, so Dockery will need to learn new pass blocking assignments.
Otherwise, it should be a seamless transition for Dockery.
The offense has maintained a run game similar to the one Dockery blocked for from 2004-06.
Plus, the 6-6, 330-pound guard has a great rapport with the rest of the Redskins' offensive line.
"Coming back, there's nothing that's really changed too much," he said. "There's Chris and Randy [Thomas] and Casey [Rabach] and Jon [Jansen]. I just remember the fun times we had. We laughed, we joked, we had chemistry and we had passion.
"I was telling my wife, 'I miss that.' We played so well as a group that other coaches would call Buges and ask about how we played and ask about how physical we were. I remember the good times, the games we played, the fun that we had as a group. So I'm excited about coming back."
When Dockery arrived in Washington in 2003, he was a fresh-faced rookie out of Texas.
Dockery has adjusted his body frame to the rigors of the NFL--"I weigh the same, but it's more muscle and less fat," he said--and he has become more self-assured as a player.
It's also evident that Dockery is more comfortable talking to media. He is a far cry from the seemingly shy player who composed a Rookie Training Camp Diary for Redskins.com in 2003.
Upon his return to Redskins Park this week, Dockery made it a point to address the fans.
"I just want the fans to know that one thing I do is put forth a lot of effort and work hard," he said. "That's something I take pride in. I'm just ready to get to work.
"I know the type of football that we play here at Redskins Park and here in Washington, and I know we will be physical. We'll play with intensity and passion."