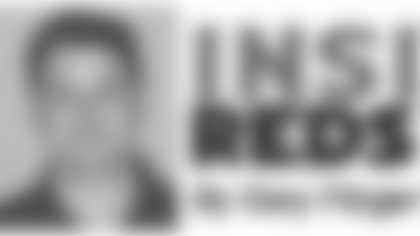 The Redskins will enter the regular season with some concerns on the offensive side of the ball.
After mustering just three points in two quarters of action on Aug. 23 in Carolina, the Redskins' offense struggled again on Thursday night at FedExField.
Jim Zorn had hoped to establish some positive momentum on offense to end the preseason on a high note. Didn't happen.
Playing a stout Jacksonville defense led by former Redskins assistant coach Gregg Williams, the first-team offense had three series in the first quarter.
They ran seven plays in all, picking up 14 yards.
Jason Campbell completed 1-of-4 passes for just three yards in the game. Marcus Mason found some running room, picking up 11 yards on three carries.
They could not muster a first down.
Campbell did not get off to a good start in the game.
Jason Campbell dropped back to pass. He hesitated in the pocket. His throw was on target to Devin Thomas, but linebacker Mike Peterson appeared to punch the ball from Thomas's arms.
The ball was tipped into the air and landed into Peterson's arms for an interception.
Starting at the Redskins' 21-yard line, the Jaguars took advantage of the turnover and scored a touchdown on the ensuing drive.
The Redskins' first-team offense was back on the field again for another drive.
Marcus Mason picked up seven yards on two carries.
Then Campbell threw to a wide open Chris Cooley 15 yards downfield. Cooley grabbed the pass and turned up-field, but safety Reggie Nelson poked the ball loose. Referees called the pass incomplete.
Still not satisfied, Jim Zorn sent the first-team offense out for one more series.
On first down, Campbell's sideline pass was thrown short to James Thrash.
After Mason picked up four yards on a carry, Campbell connected with Thomas on a short route, but he was tackled short of the first down.
It certainly wasn't what Zorn or Campbell was hoping for in the final tune-up of the regular season.
"We need to concentrate on one play at a time and finish drives," Campbell said. "What we need to do is find a way to get into rhythm."
Zorn did find a positive in that the first-team offense did not yield any sacks. Last week against Carolina, Campbell was sacked four times.
"We did a much better job in pass protection," Zorn said. "From that standpoint, I was absolutely pleased. If there was any redeeming quality, it was that. Our line did a nice job shoring up [pass protection]."
Campbell started preseason with a hot hand, but the last two games were a struggle.
He finished the preseason with 23-of-39 completions for 203 yards, one touchdown and one interception.
"We had a strong start to preseason," Campbell said. "We just need to get back into that mode."
Until next Thursday, practice is going to have to make perfect.