London Fletcher was riveted as he watched the NFC Championship game between the New Orleans Saints and Minnesota Vikings unfold--just like everyone else in America.
Except that Fletcher had a little more at stake.
If the Saints could beat the Vikings, then Fletcher would go to his first Pro Bowl because Saints middle linebacker Jonathan Vilma would be preparing for the Super Bowl.
The game was so "gut-wrenching" for Fletcher that he actually turned off the TV when the game was tied at 28-28 in the fourth quarter.
"Watching the Saints vs. Vikings game was something that I could not get comfortable with," Fletcher admitted.
Turns out it was equally as uncomfortable waiting in silence for the final score.
So he turned the TV back on.
It was overtime. Kicker Garrett Hartley, who beat the Redskins in Week 13 with a chip shot field goal, lined up a 40-yard game-winner for the Saints.
The kick sailed through the uprights.
"I did a little sprint around the house," Fletcher said, laughing.
This is how much making the Pro Bowl meant to Fletcher.
"I did think it was never going to happen for me because I've had some great seasons and didn't make it to the Pro Bowl when I thought I should have been selected outright," he told reporters in a conference call on Monday. "I've had a strong chance to go as an alternate and it never happened.
"Here I am in my 12th year. What more can I do? Is it ever going to happen for me? When it finally became a reality [on Sunday night], it was a big relief. I didn't sleep much at all."
And Fletcher doesn't care one bit that he earned a Pro Bowl bid because Vilma had to bow out.
"At the end of the day, you're going to call me London Fletcher, Pro Bowl linebacker," he said. "I'll take it."
Fletcher joins linebacker Brian Orakpo as the Redskins' representatives at the Pro Bowl.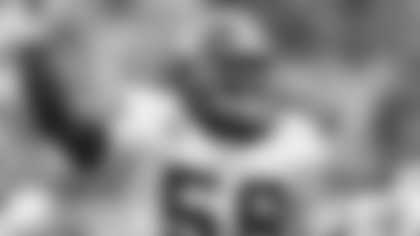 Fletcher has played in 192 consecutive games, second behind only Brett Favre among active players, and has started 150 consecutive games, fourth among active players.
He has posted 100 tackles each of the last 11 seasons, including the last three with the Redskins, and his 1,378 tackles is the most of any defensive player from 2000-09.
Last season, Fletcher led the Redskins' defense with 172 tackles (104 solo) and had two sacks, one interception and one forced fumble.
Fletcher disagreed with the notion that earning a Pro Bowl nod validated his impressive career.
"I think fans of the NFL have watched my career and seen me and already know what type of football player I am," he said. "You really can't help but respect the way I play the game and understand that I've been one of the top players at my position for the last 12 years.
"I wouldn't say that I needed this Pro Bowl to validate my career, but it was something that I coveted, because it is something to have on my résumé and it's something that I look forward to."
Fletcher said he exchanged text messages with Saints defensive coordinator Gregg Williams, the former Redskins coach, on Monday morning.
"He congratulated me on the Pro Bowl and I congratulated him on making it to the Super Bowl," Fletcher said. "I told him, 'Don't just go, go there and win.' I thought his defense played phenomenal. You look at all of those takeaways that they were able to create, it was an amazing thing. It was something that they have done all year."
Incidentally, Fletcher said he has not had a chance to meet with new head coach Mike Shanahan or new defensive coordinator Jim Haslett yet.
Fletcher is spending his offseason at his home in Charlotte, N.C.
It remains uncertain if Shanahan and Haslett decide to implement a 3-4 defense or stay with the 4-3 alignment the team has used for years.
For his part, Fletcher believes the Redskins have the right personnel to run the 3-4.
"Really, some of the things that we did last year were of a 3-4 defensive concept, even though we didn't necessarily call it a 3-4," Fletcher said. "Our main defense was basically an under front that was similar, really, to what Dallas does and to what even Arizona does.
"The only difference was, instead of having a true standup outside linebacker, Andre Carter just had his hand on the ground [as a defensive end]. So if you can imagine him just standing up, we're pretty much like Dallas and Arizona Cardinals in a 3-4 defense."