From a small town in Western Pennsylvania, Russ Grimm dreamed of playing college football. And then he dreamed of playing in the NFL. And then he dreamed of winning NFL championships.
Grimm turned his dreams into reality.
But he never dreamed he would earn a place among the all-time greats in NFL history.
He never dreamed he would be inducted into the Pro Football Hall of Fame.
On Saturday in Canton, Ohio, Grimm took his rightful place among the game's all-time greats.
This is what happens when you exceed your dreams.
He becomes a standard-bearer for "The Hogs," the renowned group of Redskins offensive linemen that dominated NFL football during the 1980s and early 1990s.
Grimm was an original member of "The Hogs." He played guard and center for the Redskins from 1981-91 and earned four consecutive trips to the Pro Bowl from 1983-86. Grimm was also named to the NFL's All-Decade Team for the 1980s.
Not bad for a guy who initially did not want to even play the offensive line.
At Pitt, Grimm was not sold on transitioning from linebacker to center until offensive line coach Joe Moore convinced him otherwise.
"He knew I wasn't happy. I didn't like the transition," he said. "But he called me in one day, sat me down, talked about it, told me that I was a football player and I should play whatever position that they thought I was best capable of playing.
"He told me that playing offensive line, there would be no greater feeling than to be able to move a man from Point A to Point B against his will. I tried it. I liked it. And was playing offensive line."
Looking back now, Grimm knows who helped him achieve his dreams.
He would not forget to thank them in his 10-minute induction speech on Saturday.
"I was [drafted] to a team that had a new head coach in Joe Gibbs, a staff that included Joe Bugel, and a lot of talented players selected by Bobby Beathard," Grimm said. "We struggled early, started winning some games. We finished 8-8 the first year. The next year was the first of three Super Bowl wins.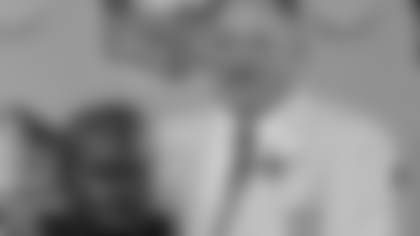 "In my 11-year career, we won a lot of football games. Through that time I was fortunate because I played with some great veterans. I played with some good young players, I played with some smart veterans.
"But I'm sitting there as an offensive linemen – guys who usually have no stats. Offensive linemen go unnoticed. I know I didn't get here by myself, all right."
Grimm thanked Gibbs, a fellow Hall of Famer and his long-time head coach, and Beathard, who brought him to Washington.
He thanked Bugel, his long-time offensive line coach, biggest advocate and presenter at the Hall of Fame ceremony.
And then he turned his attention to his fellow "Hogs."
They were a group of linemen who became one.
And when Grimm was inducted, in a sense they all were inducted.
Joe Jacoby, Jeff Bostic, Mark May, Fred Dean, Don Warren, George Starke and Rick 'Doc' Walker in the early years.
Mark Schlereth, Raleigh McKenzie and Jim Lachey in the later yeears.
They can all consider themselves Hall of Famers now.
Said Grimm: "All the guys I played with up front, thank you very much and thank you for the memories."
Grimm also had a message for Redskins fans.
It's a message sure to bring back memories – championship memories.
"There's many a time when I closed my eyes and I picture myself still putting on those pads at old RFK Stadium, and those stands are rocking up and down and 50 some thousand fans are chanting, 'We want Dallas.'
"I can hear the diesel horns blowing when 44 was carrying the football, and I remember standing there in the pouring rain when everyone was throwing the seat cushions down on the field in the playoff game versus Atlanta.
"You provided a lot of memories for me and my teammates. You made playing for the Redskins special. You created an atmosphere on game day that was second to none. The support you showed, the enthusiasm you had, the love you displayed for those teams will always be remembered. Thank you very much."