Football coaches make plenty of mistakes. So do the players.
They may one day pay with their jobs when those gaffes pile up in a mountain of losses. They may eventually save themselves with their overall body of work.
They rarely get fired immediately, even when their flubs cannot possibly be absolved.
The Redskins did not fire Joe Gibbs when he called consecutive time outs in violation of the rules and his team lost 17-16 to the Buffalo Bills on a last-second field goal in 2007. They did not fire Jason Campbell for throwing a late interception against the New Orleans Saints or Mike Sellers for fumbling in overtime in the same game.
The kicker? Gone. Miss a pressure kick and the dark clouds form. Miss another and the storm rages. Kickers almost don't qualify as players and they get judged by a different standard.
So as the Redskins reconvened Wednesday for practice, Graham Gano occupied the locker space and the job that belonged to Shaun Suisham since 2006. Too bad for Suisham.
The list of sins committed in the Redskins' 33-30 overtime loss to the Saints would cause the pious to blush, avert their eyes and ask for mercy. Defensive lapses, turnovers for touchdowns, turnovers that stopped potential game-winning drives, none of them cost anyone his livelihood.
Except Suisham. Who missed a kick that might not have won the game and, given the Redskins' defensive tendencies in the final minutes, might not even have iced it.
When teams slide to 3-9, a human sacrifice may be necessary. Suisham won the wrong lottery.
Not only because of New Orleans. Because of Dallas as well. Against the Cowboys, he missed twice -- a 39-yard field goal try just before halftime and a 50-yarder late in the game that (a la New Orleans) would have set up a two-score scenario for the Cowboys.
Given how quickly the Saints tied the Redskins in a one-score setting, and how suddenly a dazed Dallas eclipsed a 6-0 lead and won 7-6, even making the high-percentage field goal might have ensured nothing. We will never know that.
What we do know is that the Redskins lost two winnable games and the difference was on the scoreboard. If kicks go through the uprights, the Redskins stand a better chance of victory.
Dallas. New Orleans. Suisham made two of four field goals against the 'Boys, three of four against the Saints. The three misses in those two games were the only failures he had this season, having converted 18 of 21 tries.
Here, we can only quote Donald J. Trump and say, "Yuh fiyud."
In English, that translates roughly to, "You are hereby dismissed as one of our employees. We wish you well in your future endeavors. Have a Pepsi day."
Suisham's rebound this year after a disappointing 2008 season seemed remarkable. He had missed an NFL high 10 field-goal attempts as the Redskins paraded one holder after another onto the field as the weird adjunct to not finding a suitable punter.
Then they signed free-agent Hunter Smith, not only because he solved the punting problem but because he was among the NFL's most able holders. And Suisham made his first 13 field goal attempts.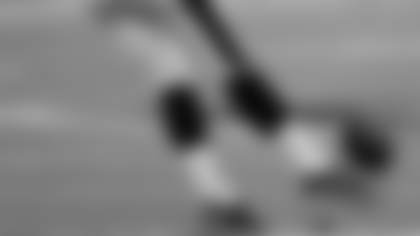 Graham Gano kicks off for the
Baltimore Ravens in 2009 preseason.
(AP Photo)


It wasn't so much that he missed three times but when and what was at stake when he misfired, coach Jim Zorn said in assessing the decision to make a change.
"That's a larger part of it, those potential situations. That combination hurt us," he said.
Kicker out, kicker in. There's always another one hanging around within cab distance of the airport. The Redskins eyeballed four before settling on Gano, a rookie who has yet to appear in a regular-season NFL game.
Gano, after a training camp look with the Baltimore Ravens, played in the new United Football League and kicked a 53-yard field goal in overtime to win the inaugural championship game for his Las Vegas Locomotives. He made 13 of 16 kicks (hey, three misses!) for the Locos.
Now he's here and not unnerved by his good fortune or the opportunity that awaits.
"That's the great thing about kicking," he said. "It's the same motion, wherever you are."
As is the tenuous job security. Somebody just like him, maybe younger, maybe older, can be found right this second banging footballs through the uprights at some remote high school field.
Could be a guy who's had a little taste (Nick Novak, Dave Rayner), could be a veteran (Jason Elam) whose last gig, like Suisham's, didn't quite work out.
Offenses sputter, defenses collapse. The guilt is collective but no individual hangs. When a kick goes awry, the kicker goes away.
---
Larry Weisman covered professional football for USA TODAY for 25 years and now joins the Redskins Broadcast Network and Redskins.com to bring his unique viewpoint and experience to Redskins fans. Go to Redskins.com for the Redskins Blitz column and NFL Blitz on Friday. Larry also appears on The Jim Zorn Show on WRC-TV on Saturday night, on Redskins Nation, airing twice nightly on Comcast SportsNet, and on ESPN 980 AM radio, all in the Washington, D.C. area. Read his blog at redskinsrule.com and follow him on Twitter.com/LarryWeisman.