First it was linebacker Matt Sinclair stepping in front of a Todd Collins pass for an easy interception. Then it was cornerbacks Shawn Springs and John Eubanks who logged interceptions off of Jason Campbell and Sam Hollenbach, respectively.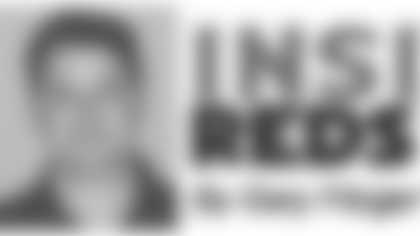 All in one set of plays during Redskins mini-camp.
It was a sure sign that the Redskins' defense is well ahead of the offense at this point of the offseason.
That shouldn't be surprising.
Head coach Jim Zorn continues to install the West Coast offense. During mini-camp and the first three OTA practices, offensive players have worked with an abbreviated playbook so that they can learn the offense play by play instead of all at once.
Zorn said he expects the offense will have "80 percent" of situational packages completed by the end of OTAs in June.
The scheme and the players remain the same. Greg Blache has taken over the Redskins' defense from the departed Gregg Williams, and he has kept many of the same components that made the unit so successful three of the last four years.
"[Blache] changed a few things, but not a whole lot," Cornelius Griffin said.
Asked to compare the offense versus the defense, Springs replied: "Well, the offense has a learning curve. We don't have a learning curve. For us, it's pretty much the same things we learned last year.
"It's hard to compare the offense and defense because it's so early. Those guys are still learning."
Zorn has been impressed with the defense early in the offseason.
"The front seven--they're giving a great effort," Zorn said. "Linebackers are scraping, filling holes and pursuing very well. The safeties and corners are doing a good job disguising their looks. I think that's helping.
"The main thing to watch is the emphasis of pursuit and swarming to the ball wherever it's going. It's great to see."
Zorn's an offensive coach, though. He wants to see improvement on offense.
The results may be mixed, but Zorn has seen signs of encouragement.
"The thing I wasn't sure of early on was how well our veteran [offensive] linemen were working together on offense and how much of a team our defense already was," he said. "Those guys were just clicking first day.
"I thought our receivers took to the offense fairly well. Our quarterbacks are still learning the rhythm and the speed which they need to play. We have a good group of running backs."
During mini-camp and the first three days of OTAs, Zorn had the offense run specific plays, as well as work on short yardage, goal line and red zone packages.
He is patient enough to let players learn at an unhurried pace.
"We put a lot of stuff in," Zorn said after Wednesday's practice. "I think they had to learn a lot of new [terminology] and work in different sets. They had to move in and out of the huddle and do things the way some of them hadn't done before. They were trying to make the uncomfortable comfortable. It's hard, sometimes."
Added Chris Samuels: "The terminology is a little different, and the scheme is a little different. But we're smart guys. We'll figure it out."
The offense is keeping the power rushing attack that has been so successful each of the last two years. The ground game was ranked fourth overall in 2006 and 12th last year.
"That makes it a little easier, because the passing game is going to be a lot different," running back Ladell Betts said. "At least something stays the same, so we can focus on the passing game. The running game will come back to you as you go."
Betts, who rushed for 335 yards and one touchdown as Clinton Portis's backup last year, is spending more time studying the playbook.
"You have to, no doubt about it," he said. "It's like being a rookie all over again. You have to get in there and learn, and then you have to execute on the move [on the practice field]. You have to know what you are doing."
Offensive players shouldn't be looking for any sympathy from their defensive counterparts, though.
"Hopefully when they get [the offense] down, we're still going to be one step ahead of them," linebacker Marcus Washington said, smiling. "We like taking care of business. We're going to be ready for them. Even when they get it down, we're still going to try to kick their butts."