Another week, another string of all-important practices for the offense at Redskins Park.
Last week the goal was to get Colt McCoy ready for Monday Night Football in Philadelphia with a playoff spot on the line. And then, again, disaster struck at the quarterback position when McCoy fractured his fibula in the first quarter. Enter Mark Sanchez, Redskins quarterback of about two weeks, who now finds himself guiding a team that's right in the playoff hunt.
Despite a three game slide and a general sense of foreboding surrounding the team, the Redskins are anything but out of the playoff picture. They're half a game back from the wild card spot, and a game back from the division title.
They just need to plug the leaks (injuries, everywhere) on offense, get their defense back in shape and they'll be right back in this thing.
And that's a fact not lost on Sanchez, who was brought in partly because of his experience in the playoffs. In 2009, Sanchez's rookie year, the Jets started the season 4-6 but ended the season by winning five of their last six games, locking up the wildcard spot.
Sanchez took that team to the AFC Championship game where they lost to the one-seeded (and Peyton Manning-led) Colts. He's hoping to give the 2018 Redskins team a similar end of season run, starting with practice this week. Sanchez emphasized that 10-6 is possible, but that it starts at practice.
"Let's just execute, see what happens, have fun at this practice, let's go knock out this walkthrough, let's go get through this practice, let's get that lift. Let's see what happens," Sanchez told reporters at Wednesday's press conference. "You'll be better for it; I know that for a fact, I can promise those guys that. I can't promise them the playoffs, but I can promise them they'll be happy, thinking back, win or lose, hey man, I gave it everything on Wednesday, so that's kind of where I'm at."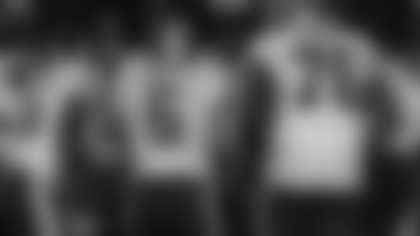 One of the most important parts of practice this week will be learning the timing of his pass-catchers' routes. Gruden told reporters Thursday that getting Sanchez comfortable with the way certain players run their preferred routes will take some work from both parties.
"There's some anticipation issues we're going through right now and that's to be expected, but I think come Sunday we'll have a pretty good grasp," Gruden said. "But their job is to run the routes that we call at the right depth, coming out of the right breaking point, the right coverage, knowing zone, and it's the quarterback's job to get it to them."
For Sanchez, learning when Jordan Reed will look for the ball on a double-stick or when Chris Thompson expects the pass to get to him on a swing route will be focal points in the offenses preparation for the Giants.
"You know, it's funny you hear a lot of the old coaching adages and guys are talking about running certain routes and in my head I'm thinking how I've seen this guy run a route or whatever and I just keep reminding myself that you're not running the line on the page, you're running the route," Sanchez said. "These guys are going to run their routes, they're going to have their nuances and it's going to be up to us to get a couple extra reps here and there."
Reed, safety blanket on and off the field, has taken extra steps to help Sanchez get comfortable in the offense. Reed said during special teams work at practice he and Sanchez have gone off to the side to accelerate their connection. Having a pass-catching savant at the tight end position is a huge benefit to a quarterback that's playing with a limited playbook.
"I'm just trying to give him confidence that I can win for him," Reed said. "Wherever he throws the ball I'm going to try and make that catch, I'm not going to tell him the ball needs to be right here. He's got a ton on his plate so I'm just going to go out there and do the best I can do."
Item number one on Sanchez's plate is learning the offense. Gruden told reporters during a conference call Tuesday that only about 20 percent of the playbook was available to Sanchez, who was operating off a play sheet on his wristband.
"I think you probably have to be a little bit more simplistic in your approach, but you still can challenge the defense in different ways," Gruden said. "I think running the ball will be key obviously and some play-actions getting him outside the pocket can be very beneficial and then the drop back concepts that we have will be things that he is comfortable with."
The easiest answer to fixing an offense led by your third starting quarterback is to run the ball, like Gruden mentioned, but that could prove particularly difficult given the injuries to the offensive line.
Starting guards Brandon Scherff and Shawn Lauvao are both on IR. After that it was Tony Bergstrom and Jonathan Cooper starting at guard. Cooper is now on IR and Bergstrom has not been able to practice after leaving Monday's game with an ankle injury. On top of that, starting center Chase Roullier hasn't been able to practice due to a knee injury. Washington is currently operating with a gaping hole on the interior of its offensive line, one that's now three players wide.
Veteran tackles Trent Williams and Morgan Moses have each dealt with their own injuries this year, but they're the last ones (currently) standing. If the run game can't materialize, Washington might have to lean on short passes to tight ends, running backs and slot receivers. Luckily, that list just about sums up the Redskins offense.
Thompson, the third-best receiving back in 2017 per Pro Football Focus, told reporters he's been working with Sanchez to find routes they both like.
"Just kind of letting him know what I think and what I look forward to on some of my routes and stuff," Thompson said. "We all run our routes differently and things like that. We actually had a play in practice today where I kind of just let him know what I plan on doing if we get certain looks from the Giants defense, things like that. That's where our communication has to be pretty much throughout the week."
Against the Eagles, Thompson had five targets and caught three of them for 18 yards. Getting him more involved against the Giants could be a safe way to get some production in the passing game. Regardless, Thompson said the team is ready and willing to help Sanchez run the offense in his first start as a Redskin.
"If he does get stuck on something we're able to help him out and that's what we know we may have to do a time or two," Thompson said. "Mark, he's a smart guy and I got to see a little bit of that in the meeting room today as well. He's going to have himself together, he's going to have himself prepared."