After playing in just two preseason games, Clinton Portis stepped back into his role as the first-team running back on Thursday night against the New York Giants.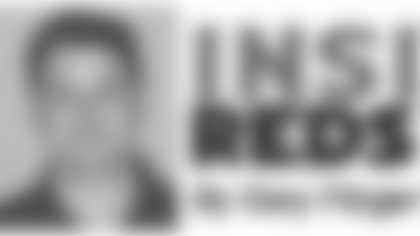 Yards were tough to come by for Portis--and the offense as a whole--as the Giants defeated the Redskins 16-7 at the Meadowlands.
Portis battled through a stingy Giants defense and finished the game with 84 yards on 23 carries.
"I thought we were strong in the running game," head coach Jim Zorn said. "Clinton ran hard and we got some good things going there."
Portis found more running room in the second half than in the first.
He nearly broke into open field in the third quarter, but he was pulled down by linebacker Bryan Kehl after a 23-yard pickup.
Perhaps his most memorable play was a block. As Jason Campbell dropped back to pass, Portis leveled a punishing block on defensive end Mathias Kiawanuka, who weighs 60 pounds more than Portis. It was Kiawanuka who ended up on his back.
Portis has always liked the big stage, but the Redskins' 16-7 setback to the Giants on national television was not how he wanted the Redskins to begin the season.
Last offseason, Portis spent countless hours working out at Redskins Park, something that team officials encouraged him to do so that he could help set an example as a leader.
As a result, Portis, 27, feels he is in great shape.
"I don't have a bump or a bruise on my body," he said. "I guess the off-season lifting is paying off. I thought [team officials] were just trying to get me to give up my offseason and stay in the weight room all the time.
"Now I see that I feel good. [The training program] puts you in position to go out and make plays. It puts you in position to recover quickly. Through training camp, every time I had a bump or a bruise, I recovered quickly."
Entering the season, Portis had 4,616 rushing yards in four seasons with the Redskins. That places him fourth all-time in franchise history.
With a 1,300-yard season, Portis would leap-frog Stephen Davis and Larry Brown into second place on the club's all-time rushing list.
Portis also ranks fourth all-time in Redskins history in carries with 1,147 and fifth all-time in rushing touchdowns with 34.
Even before Thursday night's season opener, Portis said it would take time for the Redskins to become proficient in Jim Zorn's new offense. Evidence showed up against the Giants.
The Redskins compiled 209 yards of total offense, 125 net passing yards and 11 first downs.
"You have to adapt," Portis said. "It's a new offense and there's a lot to take in. You're learning how to get open against a Cover 2 defense, which we have practiced on.
"But then all of a sudden, the defense you play against drops in a Cover 1. And you have to adjust to that. It's going to take time, but at the same time we have to execute.
"This is the NFL, and that's what we get paid for--to make changes on the run."