CHICAGO – The third time has always been the charm. In DeAngelo Hall's case, so was the fourth.
The Redskins forced three turnovers in the third quarter on Sunday and the last one made the difference. DeAngelo Hall's interception and 92-yard return for a score gave the Redskins a hard-earned lead and they survived their own gaffes for a 17-14 victory.
That was Hall's second pick of the period, which also saw the Redskins (4-3) turn away the Chicago Bears (4-3) at the 1-yard, forcing a fumble by quarterback Jay Cutler. Hall would add another two more interceptions in the fourth quarter, one that put the Redskins at the Bears' 13 but ultimately produced only a field goal attempt that caromed the wrong way off the upright, the last cutting off a Bears' late possession that showed some promise.
Hall's four interceptions tied an NFL record and a club record for a single game. The Redskins defense, which came in ranked last in the NFL in yards allowed, produced four sacks, six turnovers and allowed only one offensive touchdown.
Hall became the first Redskins defender to score two touchdowns in a season since Andre Collins in 1994. It was Hall's fumble return for a score that lifted the Redskins to their opening-day victory over the Dallas Cowboys.
The Redskins offense? Mostly along for the ride. A bumpy one. One that Donovan McNabb may consider as turbulent as any flight that ever landed at O'Hare International Airport.
McNabb threw one interception for a touchdown, saw another wiped out by a penalty, and the offense generally hiccupped and sputtered when it need a spark to roar to life. His late fumble cost the team five yards, pushed Graham Gano's field goal try back to 37 yards and that kick failed when it hit the upright. The offense became its own worst enemy with its own collection of fumbles and foibles and never gave the defense room to exhale.
McNabb's 24-yard touchdown pass to Santana Moss evened the score at 7-7. Blessed again with excellent field position (another start at midfield), the Redskins quickly added Gano's 46-yard field goal for a 10-7 edge.
It didn't last. In part because the Redskins did so little to build on it.
Make your bed with penalties and you may sleep with a loss under your penalty. This hard lesson never seems to quite seep into the Redskins' conscious minds and it caused them to play from behind.
With a first and 10 from the Bears' 22, after a nice drive comprised mainly of passes, the Redskins returned to the run and right tackle Jammal Brown got caught holding defensive end Julius Peppers.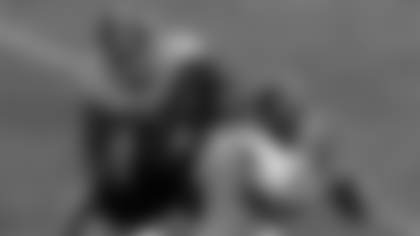 The penalty made it first and 20 and caused McNabb to overcompensate. With cornerback D.J. Moore untouched and about to sling him to the ground, McNabb tried to fling the ball anyway. Defensive end Israel Idonije blocked the pass and the deflection sailed right into the hands of Moore, who went 53 yards for a touchdown.
Look at Chicago's last drive of the first half. Two calls against Brian Orakpo for being offside gave the Bears 10 yards and one first down as they drove for the go-ahead touchdown, a 9-yard pass from Cutler to Johnny Knox. Orakpo put great pressure on Cutler but Cutler spun away and stepped up and made the throw with 24 seconds left before halftime.
The Redskins had the Bears where they wanted from the outset but couldn't take advantage of the chances they created. So often this season condemned to start drives within shouting distance of their own end zone, the Redskins had three starts from midfield in the first half but punted twice and kicked one field goal. Not quite the opportunism so often discussed.
In the early going, McNabb's receivers betrayed him. Anthony Armstrong didn't extend enough to haul in one pass, another banged off Chris Cooley's hands and Santana Moss slipped running a route. Later, McNabb reverted to the form that will keep him from ever being a knife thrower in traveling carnivals.
In one dismal stretch, six of his seven pass attempts fell incomplete, one of them after being smacked down by Idonije again. Early in the third quarter, Moore picked him again and returned it for a touchdown, only to see the entire play erased on a delay of game call against the Redskins. If not for Ryan Torain rushing for 125 yards, there'd have been no consistency whatsoever. Torain gave the Redskins back-to-back 100-yard performances for the first time since Clinton Portis in mid-October 2008.
The Bears, meanwhile, continued to fail miserably at protecting their quarterback in the early going. The Redskins sacked Jay Cutler three times in the first half alone and the Bears never got any rhythm because they almost never extended a drive past three plays.
No game is a gimme. Especially on the road. But here was one made for the Redskins. The Bears came into this game having started two left tackles, two left guards, two right guards and three right tackles and made another change at right guard in this game. Even when they got themselves organized, the Redskins applied sufficient pressure to force mistakes in judgment by Cutler and physical errors in holding onto the football.
It's said there are no ugly victories. Don't take a second look at this one and risk changing your mind.
---
Larry Weisman, an award-winning journalist during 25 years with USA TODAY, writes for Redskins.com and appears nightly on Redskins Nation on Comcast SportsNet. Read his Redskinsblitz blog at Redskinsrule.com and follow him on Twitter.com/LarryWeisman.