Mike Sellers made his first NFL start for the Redskins in the 1998 season finale at Dallas.
Ever since, everyone around the league has come to realize that Sellers is an extremely versatile player who brings a great deal to offense and special teams.
That was proven in last Sunday's game against the Cowboys.
The Redskins' offense struggled in the 14-10 loss, but one bright spot was Sellers, who pulled in a pair of passes in the first quarter.
On the Redskins' first drive, Sellers caught a 13-yard pass from Jason Campbell to get the offense to the 11-yard line.
One play later, at the Cowboys' 2-yard line, Sellers got off the line of scrimmage and was wide open in the right side of the end zone. Campbell connected with Sellers for a 2-yard touchdown pass.
"We practiced it during the week, but I didn't think it would be called," Sellers said. "I was happy it was. None of it really matters when you lose, though."
Whatever his role is on the field, the 6-3, 284-pound Sellers is a great asset.
To understand why, go back to Sept. 14 when he played a key role in the Redskins' 29-24 win over the New Orleans Saints.
Trailing 17-9 in the third quarter, the Redskins faced a second and goal at the 9-yard line. Clinton Portis found a gap off left tackle, grabbed the back of Sellers' jersey and followed him into the end zone for a touchdown.
For his part, Sellers threw a crushing block on Saints safety Kevin Kaesviharn to clear the way for Portis.
Later, with the Saints ahead 24-22 and 3:38 left to play, Sellers threw a block on Saints defensive tackle Kendrick Clancy that allowed Jason Campbell to step up in the pocket and find receiver Santana Moss streaking downfield for the 67-yard scoring pass that accounted for the winning points.
On those two plays, Sellers displayed that he is fast and agile enough to knock a safety out of the way and big and tough enough to take on a burly defensive tackle.
His teammates appreciate as much.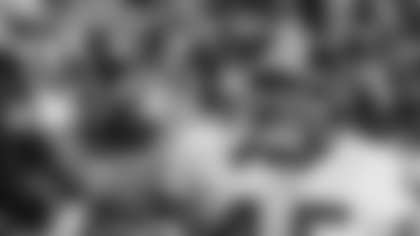 "Nobody wants to run up and bang with Mike the whole game," Portis said. "It's serious to see a man who is 285 pounds running through a linebacker who is 240. They can't sustain that contact the whole game, so it's just a matter of time before they start jumping out of the way."
Added Sellers: "It's a nice feeling to know that Clinton trusts me as a fullback that I am going to make the right reds to get him through the hole. He runs with an immense power."
Due to his work behind the scenes, doing what amounts to heavy lifting, Sellers has a tough time getting regular spots on the highlight reels.
Sellers can be a reliable pass-catching target and a short yardage runner in the red zone, or on downs where minimal yardage is needed for the first down.
"Mike is going to do his role, and do a great job at it," Todd Yoder said. "Most players on defense don't want to take him on once he gets rolling, that's for sure."
The 33-year-old Sellers is in his ninth NFL season, all but one with the Redskins. He was with Cleveland in 2001. Add to that two years of pro experience in Canada in 2002-03.
Sellers hails from Lacey, Washington, a few hours south of Seattle in the Pacific Northwest.
This Sunday's game against the Seahawks at Qwest Field promises to be a homecoming for Sellers.
Sellers was a junior college All-America linebacker at Walla Walla Community College in the state of Washington.
He went on to become the youngest player ever to sign a pro football contract when he joined the Edmonton Eskimos at the age of 19 in 1995.
In his second stint with the Redskins starting in 2004, Sellers may have had his most productive NFL game in Week 5 last year.
He scored twice to help Washington tame the Detroit Lions 34-3 at FedExField. That day, he managed 24 yards on five rushes, including a 15-yard gain and a 1-yard scoring plunge. In addition, he caught three passes for 36 yards, including one for 24 yards.
You could make the case that without Sellers in the lineup, the Redskins' offense suffered last year.
For instance, when Sellers was out with a back injury last season, the Redskins struggled in back-to-back losses to Tampa Bay and Buffalo.
When Sellers returned, the Redskins went on the four-game December run that propelled them to the playoffs.
By playing in the 2007 postseason, Sellers became one of the few current Washington players to have made appearances with the franchise in three playoff runs.
He was with the Redskins in the 2005 and 1999 playoffs as well. So were James Thrash and Jon Jansen.