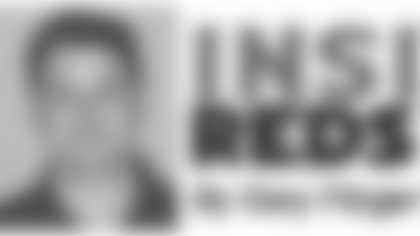 If the Redskins weren't thinking about the possibilities after a 4-1 start, then you can bet that the media would bring it up on Monday.
The Redskins are in great position to close out October with a strong run.
Up first: St. Louis Rams (0-4), who have lost their four games by an average of 26 points, at FedExField.
Then it's on to the Cleveland Browns (1-3), whose lone win was against the winless Cincinnati Bengals, at FedExField.
Finally, it's the Detroit Lions (0-4), whose defense is yielding an average of 36 points per game, at Ford Field.
This is the first time since 1999 that the Redskins are 4-1 after five games, so the team's early season success is new for most players.
Fortunately, there are veterans like London Fletcher and Jon Jansen, who was on that 1999 club, who can keep perspective.
No one is proclaiming the St. Louis Rams, this Sunday's opponent, a juggernaut.
But no one is overlooking them, either.
"It's a one-week season," Jansen said. "We have to focus on the Rams and concentrate on what they're doing. We need to make sure that we don't take any teams for granted."
Added Mike Sellers, another member of that 1999 team: "All I know is that we've got the Rams next, and that's the way we've been taking it every week. We're taking it one game at a time."
Several players have called their one-game-at-a-time approach as "staying medium."
Don't get too high, don't get too low.
As Jason Campbell said after he helped engineer a 23-17 win over the Eagles on Sunday, the Redskins "haven't proven anything yet" despite their 4-1 start.
Jim Zorn said he has tried to instill a "blue collar" work ethic in his team.
It has helped define the players and keep them level-headed despite their success.
Said Zorn: "I think acting medium is when we got sacked [in the second quarter against the Eagles] and it was 2nd and 19. Then we ran a tight end screen and got eight yards back. And then it was third down and we completed a pass for a first down.
"Nobody freaked out when it was 2nd and 19. We still had a chance. You can't flinch."
Zorn has also stressed the team approach over the individual.
"We try not to single guys out," he said. "I think our guys from an individual standpoint are taking responsibility for their job and their assignments. We're all working together."
He pointed to one situation in Sunday's game when rookie Devin Thomas was flagged for an offensive pass interference penalty, nullifying a first-down pass to Santana Moss.
"I started to say something to him as he was coming off the field--I just wanted to rip on him, maybe just to make me feel good--but I backed off," Zorn said. "All of our players were on him already."
If anyone could have been upset about Thomas's play, it was Moss.
Moss was held without a catch in the game as the Eagles rolled coverage in his direction.
Moss did his part in the win, helping to block downfield on many of Clinton Portis's runs.
"It's all about winning," he said. "It's not like you had a bunch of opportunities you didn't come up with. If you don't get the opportunity, you don't get the opportunity. You can't sit back and dwell on it.
"I felt that I had an opportunity to do something different and help get other [receivers] open. I stayed focused and confident knowing that if I was needed then I would be ready."
The last two weeks against the Dallas Cowboys and the Eagles, the Redskins have been decided underdogs.
Now the Redskins go into the Rams game as favorites.
That in itself presents a challenge, Andre Carter said.
"It's new for us because we've always been the underdog and sometimes it's great to be under the radar," Carter said. "It all boils down to showing up at game time and knowing what we are capable of doing."
And, of course, staying medium.