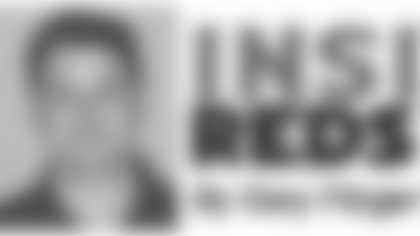 Through 10 games of the 2008 NFL season, the Redskins find themselves with a 6-4 record and tied for second place in the NFC East.
For some, the record might be an accomplishment. This was a team that did not have great expectations early on in the season.
For the Redskins, right now, 6-4 is not good enough.
The Redskins have lost two straight games, both at FedExField.
Following the 14-10 loss to the Dallas Cowboys on Sunday night, the Redskins are one of several teams in the mix for an NFC playoff berth.
Now the Redskins need another great stretch run to secure a playoff spot.
The Redskins play four of their final six games on the road. They also have a home contest against the NFC East-leading New York Giants, who are 9-1.
The situation is not as urgent as 2005, when they won five consecutive games down the stretch to make the playoffs.
The situation is not as urgent as 2007, when they won their final four games to make the playoffs again.
Another loss--especially to a 2-8 Seattle club this Sunday--would result in a greater sense of urgency, though.
With the Giants running away with the NFC East, it seems likely that the Redskins will need to win 10 games to secure one of the two Wild Card berths.
"It would be nice to be 8-2 or 7-3, but the reality is we're 6-4," Randy Thomas said. "We have been in this position before where we need wins [down the stretch]. The foundation of those teams is still here."
Since defeating the Philadelphia Eagles on Oct. 5 to improve to 4-1, the Redskins are 2-3.
While the defense has mostly been solid, the offense has struggled with consistency. They have combined for just 16 points in their last two games, albeit against two solid defenses in Pittsburgh and Dallas.
Jim Zorn maintains the team has been "close" to winning any one of the three games it has lost during the midseason.
"I think there's a great chance that if we could change a handful of things that have been going on--and I'm not talking about two big fistfuls, I'm talking about a handful--then we could flip the Dallas game [into a victory]" Zorn said. "That's how close we are.
"Right now, I think we're kind of treading water [as a team]. Is it frustrating? Yes. You can't tread water in this league for very long. You have to be swimming."
Zorn doesn't believe the Redskins are waning, though. He sees a club that plays with high energy and intensity, and battles to the end.
That has been a hallmark of this Redskins team the last four years.
"For some reason, when we face adversity, we play great ball," Mike Sellers said. "Hopefully that is the way it's going to work out. We have six games left, a lot of football left. We can get it right.
Added Santana Moss: "In football, you go through ups and downs. All you have to do is hang in there and keep fighting."