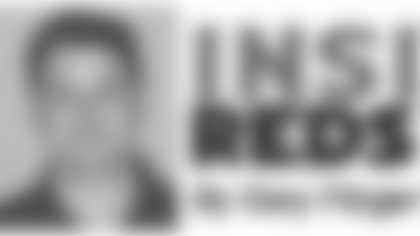 Carlos Rogers knows. Really, he does.
He knows that he can't let interceptions slip through his fingers.
He knows that he can't let game-changing plays get away from him.
Rogers' habit of dropping interceptions is a topic that simply won't go away --until he starts to regularly make the catch and hold on to the ball.
It happened again on Monday night in the Redskins' 23-6 loss to the Pittsburgh Steelers at FedExField.
With the Redskins leading 6-3 midway through the second quarter, Rogers jumped a route by Pittsburgh's Santonio Holmes.
The pass was headed his way.
There was nothing but green field ahead. It would be a sure interception return for a touchdown.
Except that Rogers dropped the ball.
On Tuesday at Redskins Park, Rogers was asked if he thought the game's outcome would have been different if he held on to the interception.
"Of course it would have been different," he replied, a look of frustration in his eyes. "The score would have been 13-3. That is a big difference in the game.
"I mean, I dropped it. I gave up a touchdown. But did that cost us the game? No. It was the second quarter. We still had a lot of football to go.
"Plays like that are game-changing plays and plays that I have to step up and make, especially against a tough team like the Steelers."
Rogers' teammates came to his defense.
"You can 'if' all day long," Marcus Washington said. "You could say, if I had come off the line a little faster when Willie Parker was in the end zone, then I would have had a safety. But they just played better than us."
Rogers is at a loss in figuring out why the problem persists. All he can do is continue to work on it in practice.
He has worked with cornerbacks coach Jerry Gray and spent time catching balls from the jugs machine.
Head coach Jim Zorn thinks that Rogers may be visualizing a big play before it happens.
"We had a practice last week where we dropped a couple of interceptions, and after the practice right then I empasized was that it was all about the catch," Zorn said. "What we're doing with interceptions is we're trying to run for a big score.
"We see it coming. We know it's going to happen. 'It's coming right to me. I can't wait to get it to show everybody what I can do.'
"The problem is, getting it is everything. It's not the run afterwards--that takes care of itself. If we could just get the interception and fall down, we'd go, 'Oh no, he had a chance for a score.' But we would have the ball and we would have changed the field position and we would have changed the momentum.
"That's what I have to get across to our guys. Anybody who has a chance to catch the ball has to know that the catch is everything."
Rogers has two weeks to let the disappointment linger before the Redskins play the Dallas Cowboys on Nov. 16.
It's not the feeling he wanted during the bye week.
Rogers has been having a Pro Bowl-caliber year after spending the offseason rehabbing from a knee ligament injury.
He can't get down about the team's prospects for the second half of the season.
"We still feel good about ourselves," Rogers said. "We feel really good about the position we are in. A lot of teams wish they were in our position. [Monday's game] gives us more that that we see we need to work on.
"Coaches are going back to the drawing board and players are going back to the drawing board. We are seeing what we need to do for the second half and how teams are going to attack us."