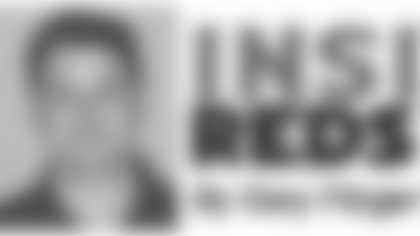 Sure, Jason Campbell and the first-team offense started Thursday night's preseason finale against Jacksonville.
But this was a game for rookies and roster hopefuls.

For many, it was a last chance to prove what they can do at the NFL level.

The Redskins have few roster spots available, but even in a 24-3 loss to the Jaguars, several players emerged.

Who impressed?

-- ALFRED FINCHER

Alfred Fincher joined the Redskins early in training camp after he was released by the Detroit Lions on Aug. 26.

The fourth-year linebacker has done what every roster hopeful needs to do: make plays and catch the coach's eye.

On Thursday night, Fincher was involved in tackles on three of Jaguars' first four plays.

He finished with eight tackles overall, including two for a loss, to lead the Redskins.

Fincher even made a nice tackle on a play that didn't count. On 3rd-and-6, he tackled running back Greg Jones on a swing pass for no gain. The play was nullified due to an off-sides penalty on Matteral Richardson.

With his impressive preseason, Fincher may have earned a roster spot as a sixth linebacker.

-- MARCUS MASON

Marcus Mason turned in a strong preseason, leading the Redskins with 66 carries for 317 yards, an impressive 4.8 yards-per-carry average. He also grabbed eight catches for 56 yards and one touchdown.

On Thursday night, Mason started with the first-team offense and played the entire game.

He had 17 rushes for 64 yards, with a long of 14 yards. He caught three passes for 27 yards.

Was it enough to earn a roster spot?

It appears Rock Cartwright has solidified a roster spot as the third running back and special teams stalwart.

If the Redskins decided to keep a fourth running back, then Mason makes it. Jim Zorn has said that scenario is not out of the question.

-- MAURICE MANN

In one of the quietest competitions of preseason, Maurice Mann and Billy McMullen battled to win a roster spot as a sixth wide receiver.

Mann caught a 20-yard touchdown pass in the Hall of Fame Game on Aug. 3, opening eyes. He has been steady all preseason, finishing with 11 catches for 115 yards and the one touchdown.

Mann may have saved his best for last, catching four passes for 39 yards, with a long of 20 that came on the Redskins' only scoring drive of the game.

McMullen has stayed one step ahead of him, though. He caught 20 passes for 227 yards in preseason.

McMullen has five years of NFL experience, while Mann is a first-year player. With Devin Thomas and Malcolm Kelly struggling early on, the Redskins may choose to keep McMullen to add experience to the roster,

Mann could be a practice squad candidate.

-- DURANT BROOKS

Late in Thursday's game, the only drama was the continuing competition at punter.

Durant Brooks, the Redskins' sixth-round draft pick, had three punts for a 38-yard average, with two inside the 20-yard line. Pooch punts were thought to be a weakness of Brooks, but he was able to have success on Thursday.

For preseason, Brooks had 13 punts for a 42.8-yard average.

Was it enough?

Frost had three punts for a 45.0-yard average on Thursday night. For preseason, he had 15 punts for a 45.5-yard average.

Jim Zorn said after Thursday's game that the decision at punter would be the toughest of preseason.

-- JUSTIN HAMILTON

If the Redskins decide to keep five safeties, then Justin Hamilton could have a chance at winning a roster spot.

Hamilton re-joined the Redskins' roster during training camp after spending part of the offseason with the club. In the last few preseason games, he has really come on, in coverage, as a tackler and as a blitzer.

On Thursday night, Hamilton was second on the team in tackles with seven.

Early in the third quarter, Hamilton came in on a safety blitz and sacked quarterback Todd Bouman. The ball popped loose from Bouman's grasp and tumbled out of bounds.

-- ROB JACKSON

Rob Jackson made his second start of preseason on Thursday night. He logged three tackles and batted away a pass in the game.

Jackson also had two special teams tackle, something that is sure to get the notice of coaches when final roster decisions are discussed.

Overall, Jackson logged two sacks in five preseason games.

Jackson was competing for a roster spot at defensive end with Erasmus James and Chris Wilson.

James had three tackles, but he also had an off-sides penalty, his second in as many games. Wilson had two tackles and a sack.

If Jackson doesn't make the roster, he remains a strong candidate for the practice squad.