Chris Samuels sweated through a workout on the treadmill at Redskins Park. Above him, the television screen showed a recent HBO special about retired players and concussions.
As Samuels walked, he talked. About the lives of players when they left behind the game they loved. About the sport in general. About the decision he expected to soon make.
There would be another doctor's appointment in a day's time. Another examination to test his neck, to look at the spinal condition that ended his 10th season after only five games. Another chance to weigh his options for 2010.
Jump ahead a couple of weeks. Samuels is again on the treadmill, walking briskly at an incline. He knows now what the doctor's opinion is and what he must do.
His body, he says, feels good. He would like it to stay that way. He loves playing football and makes a great living excelling in this rugged profession but can he put his neck, his spine, his well-being at such risk?
"It's not a knee," he said.
He knows. He has had knee injuries. And others. Twelve surgeries in all. A knee can be repaired. A neck? No. Carted from the field once while in high school, he'd had doctors way back then tell him not to play football. Others suggested he'd be lucky to get in six pro seasons. He lasted 10.
A No. 1 draft pick 2000 and six times a Pro Bowl selection, the Redskins' marquee left tackle chose to preserve a body that is young in real-world terms but aging in football.
Samuels turns 33 on July 28, roughly the time when his teammates – make that former teammates – begin training camp.
Now Samuels has joined that august body of ex-Redskins. He retired from the game and graduated to the rest of his life.
"It's going to be hard to walk away from a game I love but it's the right decision for me and my family," he said in the packed auditorium of Redskins Park.
Initially it will be a short walk. He'll be around as a coaching intern through spring workouts and training camp.
"That's good for us," guard Derrick Dockery said. "His personality, his presence, will help us a lot. He's a person you can go to to help you out."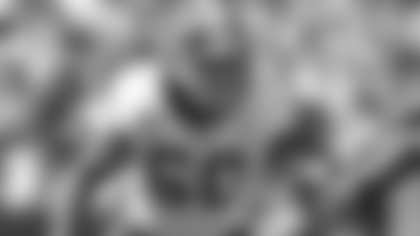 In the weeks leading up to this announcement, Samuels mused about a life away from football's grind. He wasn't so sure he would welcome it.
After suffering the neck injury against the Carolina Panthers from which he would not return, he took a vacation. Sat around a bit. Traveled some more. He is becoming a well-known figure in the Bahamas.
Yet he found the down time a bit boring. He didn't need to study tape or the game plan. No meetings. Little physical work. The unexpected transition to ordinary citizen lacked a sense of purpose.
Remember that in six of his 10 seasons he started every game, including 2004-07 when he earned three of his Pro Bowl nods.
When helmets collided in Charlotte and Samuels felt the familiar upper-body weakness resulting from a narrowed spinal column, he understood his time had come.
He prayed for guidance – should he go back in the game? His answer was no. Not now. He knew that meant not ever.
"A lot of people have been praying for me to receive a miracle," Samuels said. "But I got my miracle when I got off the field in North Carolina."
In five years, he'll be eligible for the Pro Football Hall of Fame. He may well have the credentials to make it.
He went to four consecutive Pro Bowls, tying Joe Jacoby and Russ Grimm for the most by a Redskins offensive lineman. Grimm will be enshrined in Canton this summer. Samuels' six Pro Bowls rank third among tackles active last season, behind Walter Jones (nine) and Orlando Pace (seven) and they both have logged 13 seasons.
They will certainly be Hall of Fame contenders but they'll have an edge – having played on teams that went to the Super Bowl (Jones, with the Seattle Seahawks) or won it (Pace, with the St. Louis Rams). Jones may retire and Pace was recently released by the Chicago Bears.
It was Samuels' fate to arrive here the season after the Redskins last won the NFC East. In his 10 seasons, the Redskins only reached the playoffs twice, so his playoff line includes three appearances and one postseason victory. The absence of a championship "is probably my only regret," he said.
A good man and a great player, Samuels served this franchise and this sport well. His presence on the field will be missed, in the same way that it was always felt.
Chris Samuels Video Highlights
---
Larry Weisman, an award-winning journalist during 25 years with USA TODAY, writes for Redskins.com and appears nightly on Redskins Nation on Comcast SportsNet. Read his Redskinsblitz blog at Redskinsrule.com and follow him on Twitter.com/LarryWeisman.