Veterans don't often look forward to preseason games, but for the Redskins, this Saturday's matchup feels different.
Starters are expected to play at least the first half of Saturday's game against the Carolina Panthers at Bank of America Stadium.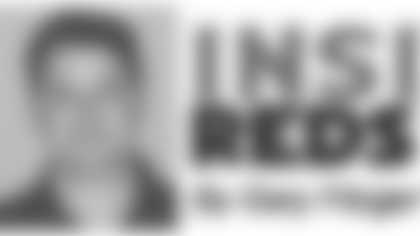 It's the most extended action Redskins starters will have in preseason.
It's also a sneak peek at how the Redskins' new offense will operate--with head coach Jim Zorn calling plays--during the regular season.
"I really want to see how good this offense can be, and not just in a couple series but in six or seven series," Chris Cooley said.
The game is also another chance for Jason Campbell to fine-tune his skills in Jim Zorn's new offense.
Campbell was impressive in the Redskins' first two preseason games, but he was inconsistent last Saturday in a 13-10 win over the New York Jets.
Overall, Campbell has completed 16-of-25 passes for 160 yards and one touchdown this preseason. His QB rating is 95.4.
Campbell said he is approaching the Panthers game as if it were the regular season.
Included in preparation is game-planning against the Panthers defense, which was ranked 16th in the NFL last year.
"No matter how long we are playing, we have to go out there and fight and stay in the game," Campbell said.
Added Zorn: "We want to see our starting group try to improve their cohesiveness. We want to see execution and finish. We don't want to see mental errors."
Clinton Portis is expected to play.
Portis has played just one preseason game, the Aug. 9 contest against the Buffalo Bills at FedExField. He logged seven rushes for 18 yards.
As has been well-documented, Portis has never welcomed playing in preseason games. He still remembers suffering a shoulder injury at Cincinnati in 2006 preseason.
Portis isn't sure he wants to play Saturday against Carolina, but he admits it's exciting to be able to line up with his teammates.
"Once you get on the field and you have the mindset that you are playing, then of course it is exciting," he said. "You love to see the guys running around and you love to be a part of it.
"Once you look at that Carolina defense and see that they blitz every other play and that they really game plan for the teams that they play, then you can't help but realize the season is right around the corner."
On the defensive side of the ball, Carlos Rogers and Rocky McIntosh have returned to the starting lineup.
With the exception of LaRon Landry, who remains sidelined with a hamstring injury, the Redskins' defensive starters are expected to see action on Saturday.
"This is a different preseason game, becayse we have a chance to do some game-planning and watch film on an opponent," Cornelius Griffin said. "It allows you to go out and play faster, whereas in the other games you just go line up and play."
There should be some drama as the punter battle continues. Derrick Frost is expected to do all of the punting in Saturday's game, continuing his rotation with rookie Durant Brooks.
For coaches, players and fans alike, the Carolina game is going to be as close to a regular season game as can be in the preseason.
"The way Coach Zorn has structured this week, it is a normal game," he said. "It kind of gives a glimpse into what the future holds."