For the last two years, Devin Thomas has been peppered with questions about his future.
When will you see playing time, Devin?
When will you establish yourself as a starter?
What will it take for you to develop into an elite wide receiver?
Even though Thomas has had to take baby steps in the NFL, it appears his time is now.
Against New Orleans on Sunday, Thomas had a breakout performance, catching a team-high seven passes for 100 yards and two touchdowns.
Thomas caught 40- and 29-yard passes in the second half to help the offense build a 10-point fourth quarter lead, but the Redskins could not hold on as the Saints won 33-30 in overtime.
"It's bittersweet," Thomas said. "It feels like a situation where we should have won the game. We had a chance to win it, but once again we failed to do it. We have to find a way to get over the hump and fight this adversity."
As for his performance, Thomas added: "It just shows that there's more to come. I'm building each week, trying to get stronger and step up my game. I'm going to continue to do that and finish out the year strong."
Thomas was the Redskins' top draft pick in 2008, a second-round selection (34th overall) out of Michigan State.
He was immediately grouped with fellow second-round draft picks Fred Davis and Malcolm Kelly.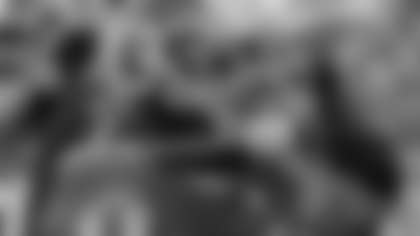 The trio struggled as rookies last year and questions lingered this season when they failed to make an impact in the early going.
It was a matter of gaining the trust of the coaching staff, Thomas said.
"They were being cautious, being wary, being unsure of how we would perform in there under fire," Thomas said.
In preseason, Thomas was beaten out for a starting job by Kelly. His opportunities were limited.
In Week 6, Thomas was inserted into the starting lineup ahead of Kelly and showed signs of improvement each week.
And he has earned the trust of the coaching staff.
"What I like about what Devin is doing is that he's starting to show the speed and the toughness that he has," head coach Jim Zorn said. "He's not just groping around hoping that his assignment is executed--he's really executing his assignments--and that's kind of a flip to what he was doing last year, and even earlier this season."
Overall, Thomas has 23 catches for 287 yards and three touchdowns this season.
"I knew it was going to come sooner or later," Thomas said. "That's why I just bit my lip. I knew I would eventually be able to showcase what I could do. I knew I wasn't a bust."
Thomas's improvement in the passing game coincided with his emergence as the Redskins' primary kickoff returner.
By returning kicks, Thomas has an opportunity to get into the flow of the game.
"It feels good, because it gives you that chance to get the ball in your hands, get some shots," he said. "Then right after that, you get right in the offense."
Added Zorn: "His kickoff returns are getting better and better as he gets more comfortable. We didn't make a lot of yardage on the kickoff returns [in the New Orleans game], but he's hitting it up in there, and we're going to break one of those."