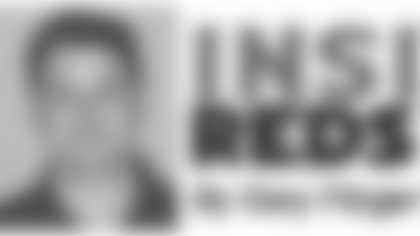 Some players get so charged up to face a former team, you can see the pent-up emotion on their face.
As the Redskins get ready to take on the Seattle Seahawks this Sunday at Qwest Field, Alexander is making his return to the city where he established himself as a Pro Bowl running back.
Drafted by the Seahawks in the first round of the 2000 NFL Draft, Alexander would go on to set Seahawks franchise records with touchdowns (112), rushing yards (9,429) and attempts (2,176).
In 2005, Alexander was named league MVP after he rushed for 1,880 yards and 28 touchdowns.
After two injury plagued seasons in 2006-07, Alexander was released by the Seahawks last offseason. After exploring options with several NFL teams, he finally signed on with the Redskins on Oct. 14.
He has seen limited snaps with the Redskins, serving as a backup to Clinton Portis and Ladell Betts.
Alexander, 31, knew the Redskins were scheduled to play at Seattle when he signed with the club.
"I'm excited to go to my favorite restaurant, I'm excited to see some friends, I'm excited to see some people from my church," he said. "The game? I'm always excited to play football. I'm not going to get myself in a frenzy or go crazy about the game because I may only get about five snaps.
"I enjoyed my time there, but it was time to move on. I like it when I go to places I used to go to. So I'll walk into the stadium and feel like, 'Oh, another game.'"
Come on, Shaun. This is a team that released you two years after you were league MVP.
"I agree," he replied. "But when you get one carry, how excited can you get?"
You could see more playing time with Clinton Portis and Ladell Betts nursing knee injuries.
"I'll be ready. If it's time for me to get 20 carries and carry the team, I'll be excited and prepared to do that. But if I only get one carry, I can't make it a big deal."
Alexander really has moved on.
Still, he cherishes the memories.
Asked to name his favorite game as a Seahawk, Alexander reflected on the NFC Championship game in 2005 when Seattle defeated the Carolina Panthers 34-14 at Qwest Field.
Alexander rushed for 132 yards and two touchdowns on 32 carries in the game.
"The week before, I got knocked out [with a concussion] playing against the Redskins," he said. "I finally started to really wake up the Friday before the [NFC Championship] game. To go out there and win the way we did--I remember carrying that trophy around the stadium, thinking 'We're going to the Super Bowl.'"
"It always means a lot to me. That was exciting."
Alexander said he doesn't enjoy seeing Seattle at 2-8 heading into Sunday's game. The Seahawks have struggled with injuries this season.
He has great respect for the players on the Seahawks' defense, as he prepares to play against them for the first time in an NFL game.
"I love those guys," he said. "I remember when a lot of them came into the league and I would tell them, 'If you play a little better, we'll go to the Super Bowl. Or, if you come in here and make our team a little better, we'll go to the Super Bowl.'
"For a while, our offense was carrying everything. Then the defense started coming on, with [Marcus] Trufant and Lofa [Tatupu] and Rocky Bernard. And that's when we made it to the Super Bowl."