Unlike his teammates, and perhaps many fans, Graham Gano doesn't mind working overtime.
In fact, Gano welcomes it.
In overtime, field goal kickers become MVPs. One kick through the uprights is all that's needed to secure a dramatic victory.
"I am so pumped up when overtime comes because you have an opportunity to win the game," Gano said. "It's just getting that opportunity, getting in field goal range."
For the first time in his brief NFL career, Gano was in an overtime game last Sunday in the Redskins' matchup against the Green Bay Packers.
Gano nailed a 33-yard field goal 6:46 into overtime to give the Redskins a come-from-behind 16-13 win.
It was his first NFL game-winning kick.
As is his custom, he pointed to the sky after the ball sailed through the uprights. He hugged holder Hunter Smith as teammates celebrated on the field.
Gano said he was focused more on his mechanics than on the significance of the kick.
"I didn't really see the ball go through at all," Gano said afterwards. "Coaches had been telling me to keep my head down [when kicking]. That's a key factor in whether I make or miss a kick. So my whole thought process going out there was to just keep my head down and follow through – the normal things that help me make a field goal."
Earlier in the game, Gano missed a 51-yard field goal that would have tied the game in the fourth quarter. The kick sailed wide right.
Gano had another opportunity to tie the game later in the fourth quarter. His 45-yard kick sailed right again, but this time the ball stayed just inside the uprights. The game was tied.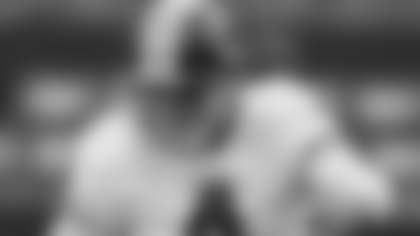 Asked if he was able to shut out the missed field goal from his mind on the ensuing kicks, Gano replied: "If I want to be successful, I have to forget about the kick. On that last one, it helps if I make that kick, everybody forgets the big miss.
"Right after I missed the field goal, sure I'm mad. I think everybody is mad. But it's important that I can just forget about it and focus on the next one. I'm happy I had the chance to redeem myself."
For the season, Gano has connected on 11-of-15 field goal attempts, including a season-long 49-yarder in Week 1 vs. Dallas.
Quietly he is establishing himself as the Redskins long-term answer at kicker, a position that has not been solidified long-term since the mid-1990s when Chip Lohmiller retired.
Gano joined the Redskins last December, replacing Shaun Suisham in Week 14.
He kicked in the Redskins' last four games of the 2009 season and was steady enough in off-season work that the team opted not to give him any training camp competition.
So far, Gano is rewarding the Redskins' confidence in him.