Success as an NFL placekicker can sometimes be reduced to two variables: power and accuracy. If a kicker can kick it far enough, and straight enough, there will always be a job ready for him.
That's why good kickers often play well into their 40s, longer than any other position. Kickers like Gary Anderson, Morten Andersen and Matt Stover were franchise players for their teams and practically institutions in the NFL.
That's also why it's hard for young kickers, like the Redskins' Graham Gano, to break into the league.
Gano was a 2009 undrafted rookie free agent signed by the Baltimore Ravens to compete for Stover's old spot. He was cut in training camp, though, and he instead found success in the United Football League, kicking the Las Vegas Locomotives to a UFL Championship.
That same success has not always translated to the NFL, where he has struggled at times with the Redskins. After going 4-for-4 in field goal attempts at the end of 2009, he ranked last in the league last year converting just 68.6 percent of field goals.
Gano did convert two overtime game-winning field goals, though. That's one reason why he remains a Redskin.
Head coach Mike Shanahan revealed some frustration with Gano after a 30-yard missed attempt in the season finale against the New York Giants on Jan. 3.
"I talked to him on the sideline and said, 'Hey, you've just got to stay focused and believe in yourself,'" Shanahan told the media after the game. "'You can't miss a field goal at the length. It is automatic. You are too good.'"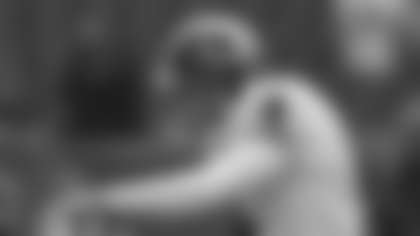 Shanahan showed confidence in Gano during the season, continuing to give him opportunities to overcome the misses. Even he isn't sure why Gano struggled with consistency.
"It has got to be mental and not physical," Shanahan concluded. "That mindset has got to be very, very strong if you are going to be a kicker in this league."
Former Redskins kicking great Chip Lohmiller offered his take on Gano and the Redskins trouble to find a franchise kicker.
"Well, in order to have a long career at one spot, you have to have positive thoughts," Lohmiller said. "It's mostly a mental game – once you miss a kick, if you can't overcome the criticism, you're going to have a tough time with it. You've got to go out there, and you do it every day in practice, so just carry it over into the game."
Gano, on the other hand, doesn't put much stock in the mental aspect.
"I've never had a problem mentally," Gano said on Jan. 4, one day after the Giants game. "I'm very mentally strong. I think it's more so just technique. I can put it through from 60-plus [yards] but I think it's just accuracy. I've got to work on my mechanics this offseason."
Regardless of what the problem is, the Redskins will need better results from their kicker in 2011.
Gano managed to nail 100 percent of his extra point attempts. However, when the Redskins offense failed to convert drives into touchdowns, they attempted the sixth-most field goals in the league. So the conversion rate was the worst by a wide margin.
The Redskins lost five games by three points or less last season. In four of those five games, Gano missed a combined six field goals. If converted, those field goals would have been enough to win two games and tie two others.
That's the difference between a 6-10 record and at least an 8-8 record.
Shanahan expressed confidence in Gano to work out the problems, but he may seek to bring in competition for the position in training camp. Gano's leash could be a short one in 2011.
It's a challenge that Gano embraces.
"I'm looking forward to next season," he said. "I'm just going to train and get better."