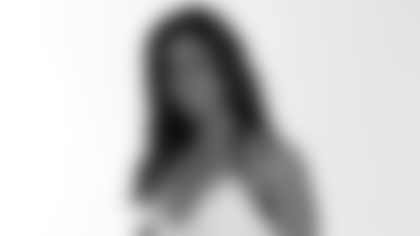 My name is Genevieve and I am so excited to represent the Washington Redskins this year as a Cheerleader Ambassador!

As a Virginia native, I have been a Redskins fan my entire life and was fortunate to attend the games with my family for years and root for the 'Skins from the stands. Now, as a Washington Redskins Cheerleader Ambassador, I am thrilled to continue the tradition of raising team spirit by meeting and interacting with all of YOU…the best fans in the NFL!

To share a little bit about myself, I graduated from the University of Virginia in Charlottesville, VA, with a B.A. in Government, and currently work as a Project Management consultant for a major consulting firm. I am also a bona fide fitness junkie and a certified fitness instructor, teaching classes in Spinning, kickboxing and strength training. In my free time I enjoy play-time with my nieces and nephews, running marathons, writing music and poetry, taking dance classes, playing the piano, attending concerts and festivals with friends, and savoring various cuisines at the many fabulous restaurants in the Washington, DC, area. I am also passionate about world history and learning about other cultures by reading and travelling the world to countries like Spain, Austria, Italy, Turkey, Greece and France. I immerse myself in the cultures and as a result have learned new foreign languages, tasted new foods, and participated in cultural traditions. My experiences in touring ancient ruins and structures, and learning the history of ancient civilizations and how they shaped our world today has proved to be an invaluable part of my personal growth. And a great perk is that I have also made enduring friendships with people all over the world.
In addition to working with so many beautiful and smart ladies, and associating with enthusiastic fans on game days, my role as a Cheerleader Ambassador touches me on a more personal level with the work I get to do to support the Washington, DC, community throughout the year. Supporting various causes and charitable events in the community is rewarding to me in so many ways. Growing up in a military family where my father, two brothers and sister-in-law all serve in the U.S. Armed Forces, I am truly grateful for the dedication and service the U.S. Troops perform every day to defend our freedom and keep us safe stateside. As a result, I am honored to have the opportunity to support the U.S. Armed Forces through various appearances as a Washington Redskins Cheerleader Ambassador throughout the year. There is nothing more rewarding than seeing the smiling faces of all the proud and loyal military families at a U.S. Troops Deployed Families Fun Day carnival, or any other event that celebrates our U.S. Military. Thank you, U.S. Troops for your service!

Before I go, I'd like to extend my warmest regards and love to my parents, and to my family and friends who have supported and believed in me through thick-and-thin. I love you!

In closing, this football season promises to be an exciting one for the Washington Redskins. Any avid football fan will tell you that the energy-level at the start of football season is undeniable, and I share that same sentiment.

So THANK YOU for spending a little time with me, and I cannot WAIT to share my passion for the Washington Redskins and the game of football with all of YOU at FedEx Field!

Now…let's go play some football. GO 'SKINS!!