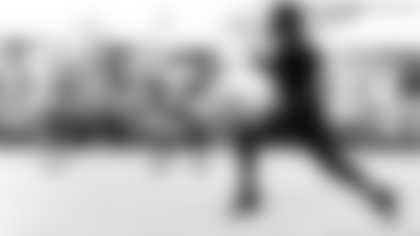 The Washington Redskins announced today that they have named quarterback Robert Griffin III the winner of the team's 2013 Ed Block Courage Award.
The honor is given annually to a player from each National Football League team who displays extraordinary courage in the face of adversity.
Griffin III's 2012 season – a campaign in which he earned AP Offensive Rookie of the Year honors after becoming only the second quarterback in NFL history to post 3,000 passing yards and 800 rushing yards in a season – ended upon suffering a right knee injury in the NFC Wild Card Round against Seattle on Jan. 6, 2013.
Three days later, Dr. James Andrews of Pensacola, Fla. performed surgery to reconstruct the ACL and LCL in Griffin III's right knee.
"Robert's commitment this offseason helped him fully recover from a major knee surgery," Redskins Head Athletic Trainer Larry Hess said. "His passion and dedication toward his profession motivated him throughout this process and made working with him enjoyable. He is well deserving of this award."
This season, Griffin III completed 274-of-456 passes (60.1 percent) for a career-high 3,203 yards in 13 games.
In surpassing the 3,000-yard passing mark, he joined Sonny Jurgensen (1966-67), Joe Theismann (1983-84), Mark Rypien (1991-92) and Jason Campbell (2008-09) as the only quarterbacks in team history to throw for 3,000 yards in consecutive seasons.
"It's an honor to be selected by my teammates to receive this award," Griffin III said. "I received a tremendous amount of support throughout the rehab process from my teammates, the doctors, the trainers and everyone involved in the organization.
"This award is not only a testament to how hard I worked to return, but also a testament to the support system I've had around me for the last 12 months.
"I'm grateful for their hard work and support and look forward to preparing for the 2014 season."
The Courage Award is named after Ed Block, the longtime head athletic trainer of the Baltimore Colts who was a pioneer in his profession and a respected humanitarian.
The inaugural Ed Block Courage Award was presented in 1978 to Baltimore Colts' defensive end, Joe Ehrmann.
Following the Colts' departure from Baltimore in 1984, the scope of the award expanded to include one player from every team in the NFL.
REDSKINS ED BLOCK COURAGE AWARD WINNERS