Robert Griffin III's quick recovery from a dislocated left ankle could lead to him participating in practice drills as soon as this week, Redskins head coach Jay Gruden confirmed Monday.
Then, if all goes well this week, Gruden said the third-year quarterback – who was already working with team trainers off to the side during practices last week – could then begin taking practice reps again as soon as next week.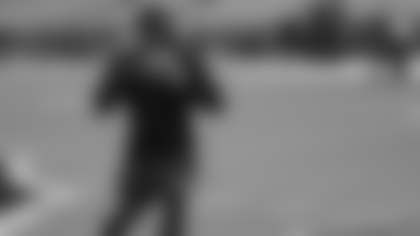 "We'll get him out there, do some individual drills, maybe throw some balls to the wideouts," Gruden told reporters. "[Practice drills] will be the first step, and then obviously next week we'll try to get him maybe into practice situations and see where he is."
Griffin III told Redskins.com on Monday that his "recovery is going well" and he's "healing up in God's timing."
He injured the ankle in the first quarter of the team's Week 2 victory against the Jacksonville Jaguars.
The Baylor product scrambled out of the pocket to his right as he looked to make a last-second throw to wide receiver DeSean Jackson, and, after attempting to stiff arm Jacksonville linebacker Paul Posluszny, Griffin III said his left ankle "got caught in the ground."
Despite suffering the injury, Griffin III was immediately able to push off his right foot and deliver a 19-yard strike to Jackson before crumpling to the ground on the Redskins sideline.
In his absence, quarterback Kirk Cousins has completed 116-of-188 passes for 1,571 yards and 10 touchdowns to eight interceptions in five games.
On Sunday, Cousins threw for 354 yards and two touchdowns, but had three fourth-quarter interceptions in the Redskins' 30-20 loss to the Arizona Cardinals at University Of Phoenix Stadium.
Gruden said Cousins will get the start at quarterback once again on Sunday, when the team plays host to the Tennessee Titans at FedExField.
"I'm not making excuses for anybody, but he's just got to see it and make the plays," Gruden said of Cousins after Sunday's game. "Something's got to change obviously. We can't turn the ball over four times in a quarter, especially the fourth quarter, and expect any success. It's unfortunate because he competed, made some good plays, made some good throws, but when the game's on the line, we've got to make plays."