A native of the working class town of Scotsdale, Pa., near Pittsburgh, Russ Grimm rooted for the dominant Pittsburgh Steelers teams of the 1970s that won four Super Bowls.
He liked that they were not flashy, just "good, hard-nosed blue collar players with some great talent at the skill positions, as he put it.
In college at Pittsburgh, he practiced at times with some of the Steelers, including Hall of Fame center Mike Webster, and gleaned plenty from their approach to the game.
Grimm brought his own no-nonsense attitude to the NFL.
Like a factory-line employee who punches his time card at the start and end of the day, he went about his work in yeoman fashion during an outstanding 11-year career with Washington, virtually all of it at left guard.
"I grew up in a small town," he said. "Dad worked at a paper factory, and mom did the books for a local clothing store. Hey, you have a job, you go to work, that's the bottom line. When work's over, have a cold beer, relax and enjoy the evening."
Grimm's contributions to Washington are prominent in franchise lore.
Now his contributions are prominent in NFL history, too.
On Saturday, Feb. 6, Grimm was selected for induction into the Pro Football Hall of Fame.
A pillar on Washington's overpowering offensive line of the 1980s and early 1990s, "The Hogs," he made the Pro Bowl every year from 1983-86, earning first team All-Pro honors in each of those seasons.
He was named a starting guard on the NFL's All-Decade Team of the 1980s.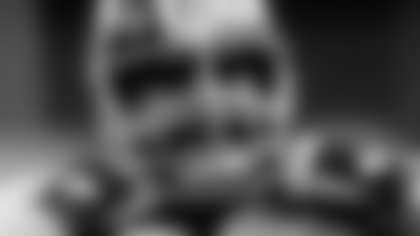 When reflecting on Grimm, his Washington teammates and coaches touch on his football savvy, among other attributes.
"Russ was the consummate athlete, everything came easy to him," said Jim Hanifan, a Washington offensive line coach who worked with him for two seasons. "He was exceptionally quick, had great feet, very fine strength, and was a very smart player. Russ was a great puller, a great trapper, could make terrific adjustments in ball games. He had it all."
"He was probably one of the smartest individuals as far as a football mind," said another ex-Hog, tackle Joe Jacoby, "as far as the intricacies of the game, figuring out something, blocking schemes, game plans."
Linebacker, not guard, was Grimm's dream position growing up.
He idolized two ferocious middle linebackers now in the Hall of Fame, the Steelers' Jack Lambert and the Bears' Dick Butkus, admiring the way they hit.
He played quarterback and linebacker in high school, and was a linebacker in his first two years of college ball at Pitt.
"I wanted to play linebacker all the way," Grimm said. "You were in the middle of everything. It's not that you were playing one defensive end, and the ball-carrier was running the other way. You had the chance to make all the plays."
After Grimm's sophomore year at Pitt, head coach Jackie Sherrill asked how he felt about playing center.
Grimm responded this fashion. "I told him I'd never been in a three-point stance in my life, and that I was going to stay at linebacker. He informed me he wasn't asking me, he was telling me they were moving me. So I considered transferring."
Grimm talked to West Virginia assistant coach Joe Pendry about playing linebacker, but Pendry was soon hired to coach at Pittsburgh, so Grimm stayed.
His transition to center was rough.
"It was a rude awakening," Grimm said. "In spring ball, I'm still learning how to snap the ball and playing against Dave Logan, who went on to play nose tackle in the NFL. It took me a while to get adjusted, but I was stuck. All the other options were eliminated, so I had no other choice but to try to play the position."
Despite his ho-hum attitude, Grimm won the starting center job after bulking up from 240 to 255 pounds. He started for the next two seasons on Pitt teams that were 22-2, earning honorable mention All-American honors and playing in some college all-star games.
Washington drafted him in the third found in 1981. Bu the solid play in training camp of second-year center Jeff Bostic led coaches to move Grimm to left guard.
He made another smooth switch and was named to the NFL All-Rookie team despite playing the last seven games with torn knee cartilage.
In 1982, he played on his first of three NFL championship teams. That season during Washington's win in Super Bowl XVII, he helped clear a path that John Riggins used to run 43 yards for a touchdown in the most famous play in Washington history. The play was called "70 Chip."
Grimm also opened holes over the years on "50 Gut," a run to the left side through the tackles.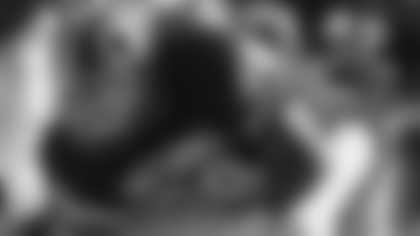 **Russ Grimm, a four-time Pro Bowler**
And he became synonymous with the "Counter-Trey," a play that epitomized the dominance of "The Hogs" where he pulled to the right side like a freight train, often with left tackle Joe Jacoby, to create running room.
Grimm, who once turned down a lucrative offer to play with the Pittsburgh Maulers of the United States Football League, saw action in 79 straight games at one point, a streak that ended midway through the 1986 season due to a sprained neck.
Other injuries in the coming seasons seriously curtailed his playing time, although when healthy he proved to be one of the most powerful offensive linemen in the league.
In all, Grimm played in 140 games before retiring after the 1991 season.
"The thing that impressed me about him is his toughness," said running back Joe Washington, who played with Grimm for four seasons. "This guy played with more things wrong with him, and a lot of people didn't know that especially when it came to his knees. And he did a good job. He was relentless."
Grimm later served as a Washington assistant coach for nine seasons, the first five as tight ends coach and the last four as offensive line coach. He is credited with the early development of Washington offensive tackles Chris Samuels and Jon Jansen.
Pittsburgh hired Grimm to coach their offensive line starting in the 2001 season and he earned another Super Bowl ring when the Steelers won Super Bowl XL in 2005.
In 2007, Grimm moved on to serve as a top assistant and offensive line coach with Ken Whisenhunt, a former Washington teammate, and the Arizona Cardinals.