The Redskins great, the 2010 Hall of Famer, reconnected with the franchise he began his illustrious, hard-nosed career with on Sunday night.
Grimm received his Hall of Fame ring in a halftime ceremony during the Redskins-Colts game at FedExField.
Grimm, of course, will forever be remembered in Washington as the consummate "Hog." His hard-nosed personality, direct from Pittsburgh, defined what it means to be a Redskins offensive lineman during the 1980s.
Grimm retired from the NFL in 1991 and then served as an assistant coach with the Redskins the next nine years.
In 2001, amid coaching turnover at Redskins Park, Grimm moved on to coach the offensive line for the Pittsburgh Steelers, his hometown team. Since 2007, he has coached the offensive line for the Arizona Cardinals.
Grimm has been a Redskin from afar the last 10 years.
His arrival at FedExField on Sunday night was an opportunity for fans to celebrate his great Redskins career.
Grimm was joined by 61 other former Redskins players and coaches who attended the game as part of "Homecoming."
Alongside Grimm on the field at halftime were other members of "The Hogs," starting with Grimm's long-time offensive line coach Joe Bugel.
There was Joe Jacoby, Jeff Bostic, George Starke, Fred Dean and Raleigh McKenzie, among others.
In a press conference prior to the game, Grimm was asked about becoming the first member of "The Hogs" to earn Hall of Fame status.
"It's a position where you have no stats," he replied. "As time went on, I was hoping someone would finally make it, if I didn't make it there myself. I played beside Jacoby, Bostic, [Mark] May, Starke, Freddie Dean, Schlereth, McKenzie, [Jim] Lachey. We had Riggo, we had Joe.
"There were a lot of things that went into place and everybody kind of had a piece of it. There were no stats other than we won a lot of games. And I think that's the biggest reason I made it into the Hall of Fame.
"Hopefully we get a couple more of the guys in, and it'll get more recognition for some of the teams that I'm just glad I made."
Grimm admitted that making the enormity of Hall of Fame induction had not fully sunk in yet.
"It's still sinking in," he said. "Being there at Canton with family and friends, being able to sit in a room – and I'm 51 years old – and just talk to a lot of guys who were your heroes growing up, and now you're a part of that club, it's special."
By Grimm's side at the press conference was – of course – Bugel.
"Russ making the Hall is one of the greatest thrills I've had in coaching," Bugel said. "I've been coaching in the NFL for 32 years, I've coached some great football players, and this is the greatest player I've coached. He is well-deserved for that alter in the Hall of Fame.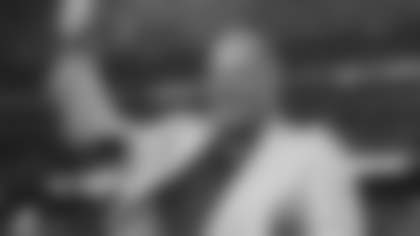 "He was the ultimate. He was a great leader, he was a very physical football player and the players loved him both on and off the football field."
Cut in Grimm with a chuckle: "This is the same guy who used to cuss us up one wall and down the other."
Grimm was inducted into the Hall of Fame on Aug. 7. He played center and guard for the Redskins from 1981-91 and earned four consecutive trips to the Pro Bowl from 1983-86. He was also named to the NFL's All-Decade Team for the 1980s.
Grimm couldn't help reflecting on some of the great moments of his Redskins career.
"I remember putting on the pads at old RFK, and you could hear the fans in the stands, banging up and down, 'We want Dallas,'" Grimm said. "I can remember it pouring down rain against Atlanta and the seat cushions were flying.
"The Redskins fans make it special playing here, they created an atmosphere that to me was second to none at the time. If you didn't play well, you would get your butt booed. And if you played well, they really appreciated it.
"Those are the memories. You remember [John Riggin's] run, you remember some of the passes that Joe [Theismann] made, and Mark Rypien made, and you remember some of the guys who probably never got the attention, the Neil Olkewicz's, the Pete Cronan's.
"It takes a lot of different guys to make up a football team. It's not always the guys that get the headlines, and get to the Hall. I tell people all the time that I didn't get to the Hall without the help from Coach Bugel, without playing beside the great players that I played beside."
In recent years, Grimm has been mentioned as a head coaching candidate in the NFL.
Becoming a head coach would be another achievement for Grimm – and for Bugel and "The Hogs."
Grimm was asked if he thought he would ever become a head coach.
"I tell people all the time, I don't worry about it," he said. "I enjoy doing what I'm doing. If it's the right place, the right time, and everything is set the way I want it, then that'll be something that I do."
On Sunday night, the right place for Grimm was in front of 88,000 Redskins fans at FedExField.