Russ Grimm was far from Redskins Park, far from Washington, D.C., but memories of his Hall of Fame career in Washington rushed back to him on Saturday.
Grimm, an offensive line coach with the Arizona Cardinals, hosted a press conference at the Cardinals' facility in Tempe to discuss his selection to the Pro Football Hall of Fame.
Grimm was level-headed in his comments, not unusual given his no-nonsense personality, but he did admit he was "elated" at the honor.
"To be enshrined in Canton, I don't think that part has hit me yet," Grimm said. "I played the game because I did it ever since I was a kid and I had fun playing it. I remember saying in grade school I was going to play in the pros and that was a dream to get that far.
"There are a lot of people who really contributed to my success and allowed me to get to this point. This is a great day in my life."
Grimm said he expected long-time Redskins offensive line coach Joe Bugel would be his presenter when he is inducted into the Pro Football Hall of Fame on Aug. 7.
He asked Bugel during a telephone call on Saturday after the Hall of Fame announcement.
"Unless he changes his mind, which he has before...but I think he'll be there," Grimm said.
Bugel, who retired from the NFL last month, was the architect of "The Hogs." He coached the famed Redskins offensive line from 1981-89.
Bugel often credited Grimm with being "the original Hog," a player who set the tone for the physical play of the line.
Names and faces on "The Hogs" changed through the years, but Grimm was among the mainstays. The unit would go on to win three Super Bowls in nine years.
"We kind of got the name in training camp," Grimm recalled. "Joe Bugel--I love the guy, he's a big reason why I'm going to Canton--he had young guys to work with. Me, [Joe] Jacoby, Mark May in our first year. [Jeff] Bostic, in his second year coming from Philadelphia where they said he was just a long snapper. We developed chemistry.
"And we didn't start out very well. We started out 0-5 my rookie year and there were times where I sat there and thought, 'Am I that bad? Are we that bad as a team? Do I really want to do this for a living?' Sometimes those things flash through your mind.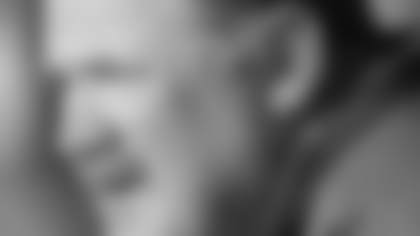 "But we ended up turning it around and we were productive, finishing 8-8. And then we were 8-2 the next year and we went to the Super Bowl.
"You just work with those guys constantly. Just like at training camp here [with the Cardinals], the offensive line stays down in a corner by ourselves and it is like, 'Call us when you need us.' It is that attitude.
"The thing you miss most about the game is not so much the highs and lows of winning and losing, it is missing the camaraderie, the moments you spend with some of those guys that you have played with for a long time. I still miss it to this day."
Grimm gave credit to his fellow "Hogs" for his success.
"The success I had as a player and the career I had as a player was based on the guys I played beside and the guys I played with," he said. "Playing offensive line, you're only as good as your weakest guy up front. I was blessed to play alongside a lot of guys for a long time. Jacoby and Bostic are like brothers to me. Jim Lachey, Mark May, [George] Starke, [Mark] Schlereth--you could go on. Raleigh McKenzie. I was lucky to be a part of some good football teams.
"I tell people all the time--you can have ability, and there are probably 100 guys who had as much ability as I had, but they were drafted somewhere where things weren't changing, and I was fortunate enough to get drafted to a team with a first-year head coach in Joe Gibbs, and changes were being made...I always felt I had enough ability, but things also fell my way."