Free agent wide receivers D.J. Hackett and Kelley Washington and offensive lineman Jeremy Bridges are among the NFL veterans trying out for the Redskins at the team's three-day mini-camp this weekend.
Hackett is a 5-year veteran who played for the Carolina Panthers last season after four years with the Seattle Seahawks. He played for current Redskins head coach Jim Zorn during his time in Seattle.
This is Hackett's second visit to Redskins Park. He visited the team's facility last year as an unrestricted free agent prior to signing with Carolina.
Hackett has 118 career receptions for 1,575 yards and nine touchdowns. Last year, he was a reserve with Carolina and logged 13 catches for 181 yards.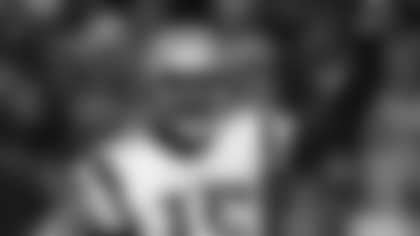 Hackett was a fifth-round draft pick by the Seahawks in the 2004 NFL Draft.
Washington is a 6-year veteran who played for the New England Patriots the last two seasons. He previously played for the Cincinnati Bengals from 2003-06.
Washington has 73 career receptions for 896 yards and nine touchdowns.
He has excelled on special teams in recent years, serving primarily in that role with the Patriots. He had just one catch for three yards in his two years in New England.
Washington was a third-round draft pick by the Bengals in the 2003 NFL Draft.
Bridges is also a 6-year veteran who has played for the Panthers the last three years and started 28-of-41 games at guard in that span.
He is listed at 6-4 and 326 pounds.
In his career, Bridges has started 39-of-62 games. He had a two-year stint with the Cardinals from 2004-05 after one year with the Philadelphia Eagles in 2003.
He was drafted by the Eagles in the sixth round of the 2003 NFL Draft.
Here is a full list of players trying out at mini-camp:
MINI-CAMP TRYOUT PLAYERS
Player
Position
College
Joe Ganz
QB
Nebraska
Johnathon Smith
RB
Delaware
Wynel Seldon
RB
Wyoming
Dan Lawlor
RB
Penn State
Anthony Oakley
C/G
W. Kentucky
Stephen Hamby
C/G
Texas Tech
Terrence Apted
G/T
James Madison
Jeremy Bridges
G/T
S. Mississippi
Frank Davis
G
South Florida
Kelley Washington
WR
Tennessee
D.J. Hackett
WR
Colorado
Keith Eloi
WR
Nebraska-Omaha
Thomas Breaux
WR
Towson
Cary Koch
WR
Virginia
Rory Nicol
TE
Ohio State
Mark Hafner
TE
Houston
Justin Brown
DE
Notre Dame
J.D. Skolnisky
DE
James Madison
Melvin Matthews
DT
Grambling State
Jason Chapman
DE
Wisconsin
Darrell Young
LB
Villanova
Rodney Pittman
LB
Illinois
James Bryant
LB
Louisville
Greg Trent
LB
Washington State
Andrew Berry
CB
Harvard
Corey Small
CB
Florida Atlantic
Lionel Mitchell
S
East Stroudsburg
Allen Nelson
LB
McNeese State
In addition, the Redskins have re-signed defensive tackle Vaka Manupuna to the roster.
Manupuna, a native of Hawaii who played college football at Colorado, had training camp stints with the Redskins in 2006 and 2007.
He most recently played for the Arena Football League's Utah Blaze.